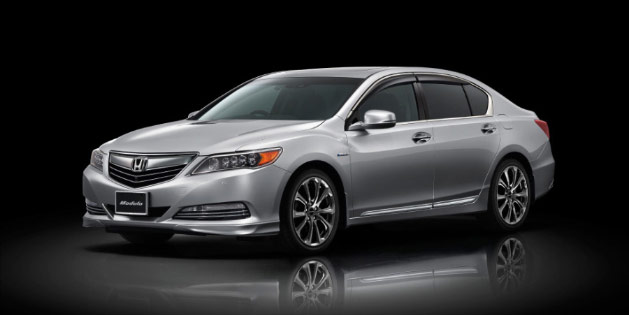 Official release from Honda Media Website:
TOKYO, Japan, November 10, 2014— Honda Motor Co., Ltd. today announced it would begin sales of the all-new Legend flagship sedan at dealerships across Japan on January 22, 2015. The new hybrid system features revolutionary hybrid technology to deliver a combination of unprecedented driving pleasure, a refined and comfortable ride and outstanding environmental performance.
The fifth-generation Legend features SPORT HYBRID SH-AWD*1, which comprises three electric motors. Featuring a gasoline engine, a single front motor and twin rear motors, the hybrid system automatically combines front-wheel drive, rear-wheel drive or all-wheel drive with EV Drive, Hybrid Drive or Engine Drive to respond continuously to driver inputs and driving conditions and ensure optimally efficient performance.
The twin rear motors provide drive and deceleration power to the rear wheels in any ratio. This revolutionary torque vectoring*2 technology delivers highly stable handling in every type of driving and refined driving comfort that exceeds expectations for the Legend's class. At the same time, the Legend's advanced hybrid system offers outstanding fuel economy of 16.8 km/L as measured in JC08 mode.*3