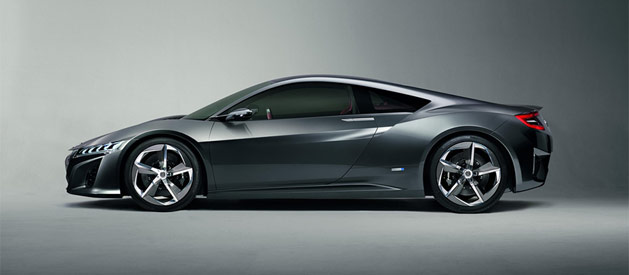 Official release from acuranews.com:
Acura Brand Becomes Official Sponsor of World's Premier Collector Car Show
08/12/2013 – TORRANCE, Calif.
The Acura NSX Concept will make a special appearance on the Concept Lawn at the 2013 Pebble Beach Concours d'Elegance®, August 18, 2013, heralding the announcement of the Acura brand as an Official Sponsor of the 2013 Pebble Beach Concours d'Elegance®.
The Pebble Beach Concours d'Elegance is more than one of the world's preeminent exhibitions of luxury automobiles; it is a celebration of style and refinement that is the perfect showcase for the Acura NSX Concept," said Michael Accavitti, senior vice president of Automobile Operations at American Honda Motor Co., Inc.  We are thrilled to align the Acura Brand with this prestigious event that is the ultimate celebration of the automobile."
Global development of a production model based on the Acura NSX Concept is being led by engineers at Honda R&D Americas, Inc., in Raymond, Ohio. The next-generation Acura sports car will be produced in nearby Marysville, Ohio at the newly established, state-of-the-art Performance Manufacturing Center now under construction.  The NSX is slated to go on sale in 2015.
Click here to continue reading
Filed under: Acura News, Acura Official Releases, NSX
Tags:
No Comments