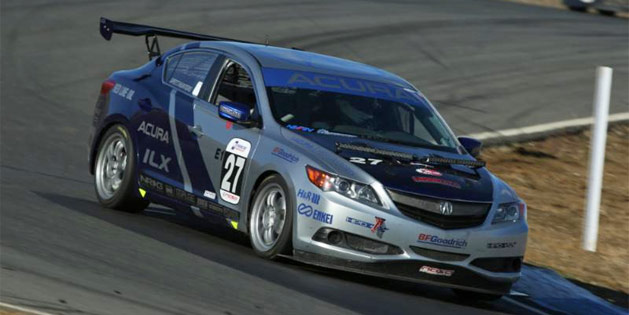 Official release from Acura Media Newsroom:
Team Honda Research West Takes Acura ILX To Class Victory at 25 Hours of Thunderhill
12/09/2013 – TORRANCE, Calif.
Team Honda Research West claimed the E1 class victory Sunday in the 11th running of the 25 Hours of Thunderhill, as Acura entries from THRW and Fantasy Junction took three of the top four E1 finishing positions in the challenging endurance contest that concluded the 2013 National Auto Sports Association season.
As the checkers flew at the end of 25 hours, during which unseasonably cool temperatures dipped as low as 25 degrees overnight, it was the #27 THRW Acura taking the E1 victory with an eighth-place overall finish, and, a healthy seven-lap margin over a large field that included a trio of works-run Mazda 6 diesel entries.  An Acura RSX fielded by the Fantasy Junction team finished second in class, ninth overall, with the second, #25 THRW Acura ILX, fourth.
Prior to prevailing on track at Thunderhill, the Acura ILX also recently earned two 2013 Motorists Choice Awards for IntelliChoice and AutoPacific for the premium market segment in the Youthful and Cosmopolitan categories.  IntelliChoice and AutoPacific define the "Youthful" winner as a vehicle that "makes you feel young when you own it." While "Cosmopolitan" is defined as a car that "provides prestige or quiet refuge within a city setting."
Click here to continue reading
No Comments
Filed under: Acura Motorsports, Acura News, ILX
Tags: ILX Endurance Racer