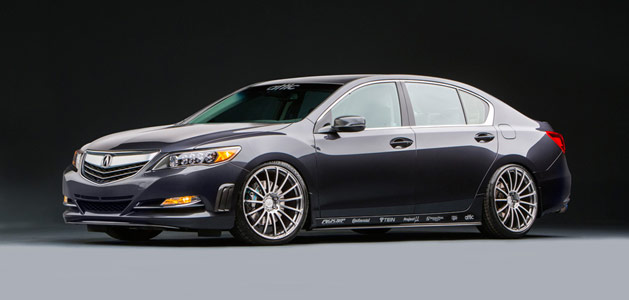 Official release from acuranews.com:
11/05/2013 – Las Vegas, NV.
Acura demonstrates tuner potential of RLX Luxury Performance Sedan and ILX Compact Luxury Sedan using Acura Genuine Accessories and top aftermarket brands
Acura today unveiled three customized sedans at the 2013 Specialty Equipment Market Association (SEMA) show in Las Vegas, including the Acura RLX VIP Sedan, created by Evasive Motorsports, the RLX Urban Luxury Sedan and Street Performance ILX, both created by MAD Industries.
"How better to amp up the inherent luxury, excitement and prestige of the Acura Brand than to partner with the enthusiast crowd and create these custom RLX and ILX sedans," said Mike Accavitti, senior vice president of Auto Operations. "SEMA is where we go to add that little bit of spice that brings out the true performance character in our Acura lineup."
Acura engaged MAD Industries and Evasive Motorsports, both located in Southern California, to use Acura sedans as the platform to create even more exciting and dynamic custom vehicles.
Clicke here to continue reading
Filed under: Acura Galleries, Acura News, Acura Official Releases, ILX, RLX
Tags: 2014 Acura ILX, SEMA Show
No Comments