Did you know that July 8, 2011 is the second annual Collector Car Appreciation Day? Designated as a national celebration of classic cars, the event was created to applaud collector cars and hobbyists. Initiated by the Specialty Equipment Market Association (SEMA) and passed by the Senate, the resolution says that the collection and restoration of historic and classic cars is an important part of preserving the technological achievements and cultural heritage of the United States. It's also to acknowledge the motorsports and car restoration industries as vital job providers across the country.
What makes a car eligible to be registered as a classic? It varies by state, but on average, it must be 25 years old. Coincidentally, this year marks the 25th anniversary of the Acura brand. That means our debut models, the Legend 4-door sedan and the sporty Integra-the United State's first Japanese luxury vehicles-now qualify as classic cars.
Some classic cars are notable for their age, but below are several Acura models that are destined to become classics for their own reasons. If you own one today, kudos for your forward thinking.
Integra GS-R – The Integra GS-R, which ran from 1992 – 2001, is renowned for being the first Acura to feature VTEC® after the technology made its debut in the NSX supercar. The 1992 GS-R 3-door hatchback had a 1.7-liter engine that produced 160 hp @ 7600 rpm but was revered mostly for its screaming, motorcycle-like 8200 rpm redline. Later, the GS-R was offered in both hatchback and sedan forms, powered by the legendary B18 1.8L engine that produced 170hp at 7600 RPM with VTEC®. Out of all the GS-R models sold during 10 years of production, the 1992 and 1993 hatchbacks and the later GS-R Sedan models are the rarest.
Legend 6MTs – The Acura Legend was a great car through 2 generations and 10 years of sales. Within the Legend line-up, the 6-speed manual transmission Legends, sold in 1993 and 1994, were some of the best. The Legend 6MT marked one of first times that a 6-speed transmission was used in anything other than an exotic sports car. The transmission was coupled with a powerful 230hp V6 engine and sport suspension. Very few 6-speed Legends were produced, in particular, the 4-door Legend GS 6MT which only sold around 400 units in the 2 years it was available.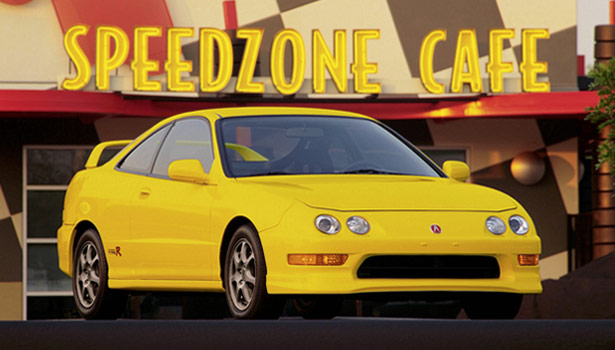 Integra Type-R – Introduced in 1997, the Type-R was geared toward the hard-core enthusiast willing to dispense with luxuries like a sunroof, cruise control, vanity mirrors and even standard A/C in pursuit of lighter weight. Instead, they were treated to a 195-hp, 1.8-liter engine that provided more horsepower per liter than any normally aspirated mass-produced engine in the U.S. A track-calibrated suspension, larger brakes, and limited slip differential were other Type-R exclusives.
CL Type-S 6-speed – Following in the legacy of the 6-speed Legends was the 2003 CL Type-S with 6MT. Available only for one year, it had a short life, but with 260 hp, a limited slip diff and slick 6-speed manual, there was a lot to like. Not one of the most well known Acura models but a great one that represented a bridge between some of the iconic models of the past and the powerful models of today.
Zanardi NSX – With only a few thousand produced any NSX is rare, but with a production run of only 50, the 1999 Alex Zanardi edition is the most exclusive. Named after two-time CART Champion Alex Zanardi, the Zanardi NSX shaved 149 pounds from the already light NSX, while boasting a track-calibrated suspension, lightweight BBS alloy wheels and non-power assist steering.
Over the years Acura has made some amazing vehicles, all combining impressive powertrains and fun-to-drive with quality, reliability, and efficiency. We don't know what the next generation of classics will be, possibly the current ZDX or TL SH-AWD 6MT, but you can be sure that Acura will continue to make exciting vehicles for years to come.
Many thanks to Acura Connected for the opportunity to post this article.
@Acura_Insider
[Source: Acura_Insider]