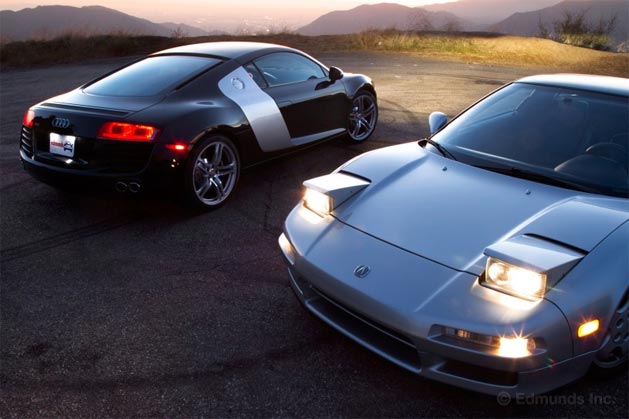 The title you see is not a typo. Edmunds' Inside Line compares the 1991 Acura NSX and the 2012 Audi R8, two models which are separated by nearly two decades of design and technology. It would be like pitting today's 48-year-old Micheal Jordan up against the 27-year-old Labron James, who are in fact also separated by 21 years. The comparison however isn't just a numbers game, it's about what each vehicle represents and how well it will stand the test of time.
"Following, in no particular order, are some things most NSXs never did: leak, stall, stink, burn, ventilate their crankcase, cook their clutch, experience catastrophic electrical failure, overheat or simply strand their driver. The NSX, for all its hype, sprang from a time when mixing some mundane Honda Accord into the supercar stew, rolling it up in an aluminum body and dropping it into a market ripe for a real driver's car was a stupendously good idea. Good enough, in fact, to last for 15 years.
Next to Porsche's ubiquitous 911, the NSX might just be the most practical, reliable real-world supercar ever built. But in 1990 there was something more exotic about a low-slung, midengine, aluminum-bodied supercar than there was about any Porsche. And there's still truth in that statement today. Which is why we think Audi's R8 might be the best spiritual successor the NSX could have." – Josh Jacquot, Inside Line
The fact that this article even exists is more than enough for me to declare the NSX the winner, but then again I am a bit biased. There is one thing I'm sure we can all agree on – the next generation NSX has got some big shoes to fill.
If you're an NSX fan you won't want to miss this read.
Check it out at insideline.com – 1991 Acura NSX vs. 2012 Audi R8.
[Source: Edmunds' Inside Line]