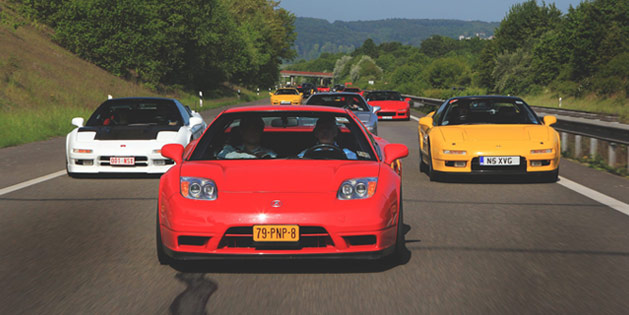 Whether it wears an Acura or a Honda badge, the admiration and passion for the NSX is worldwide. While the number of NSX owners may not be as strong on the European side, the love for this machine is still definitely present.
NSX Club Europe recently brought together 33 NSXs from all over the continent, and that's a huge turnout from their perspective. But this was not your typical meet up, this was a carefully planned three day tour that took them to three countries, two legendary race tracks and the Autobahn.
Here's how it went down:
"The route we set out would take us to Spa-Francorchamps, where the Spa Classic was held An event where all kind of race cars from bygone times would meet and go head to head again. From there we would drive to our hotel in Luxemburg. On Saturday a navigated drive to the Nurburgring was planned. On the (in)famous track, a VLN race was held. On the agenda for Sunday where long Autobahn straights, directly to Europe's biggest Honda gathering, HondaFest. With these ingredients on the table, NSX owners from all over Europe started to subscribe. 10 from The Netherlands, 9 from the United Kingdom, 4 from Norway, 2 from Austria, France and Luxemburg, and one from Belgium, Croatia and Switzerland. And we were honored to welcome five special guests from Japan, of which the President of the NSX Club of Japan, Hirofumi Tomiyoshi." – NSX Club Europe
Visit nsxclubeurope.com for more photos and coverage from NSX Club Europe Tour 2014.
[Source: NSX Club Europe, A.v.G Photography, Romain Farrands]