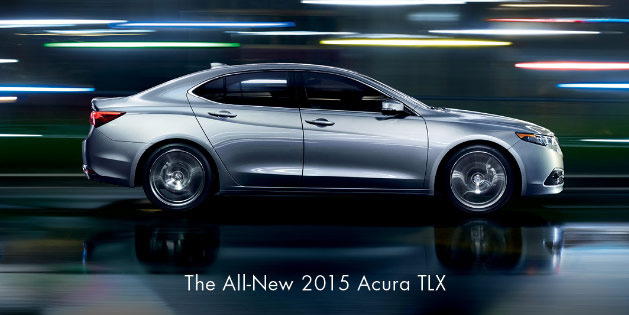 Official release from Acura Media Newsroom:
Acura Launches All-New 2015 TLX Performance Luxury Sedan with Biggest Marketing Campaign in Brand History
08/11/2014
Acura TLX delivers "It's that kind of thrill" in 360-degree campaign  
"My Way" anthem spot captures passion of U.S. team of engineers and designers who developed the TLX
Bite-sized and clever creative deployed across multiple platforms for sustained launch effort through fall
Acura is launching the all-new 2015 TLX performance luxury sedan with the biggest marketing campaign in the brand's history. The TLX, which combines sports-sedan dynamic proportion, premium luxury refinement and super-handling performance, is the star of a 360-degree marketing campaign under the theme "It's that kind of thrill."
The marketing campaign launches on-air August 17 with the TV anthem spot, "My Way", which captures the passion of the team of Acura design, development and manufacturing engineers who created the new TLX. The emotionally engaging spot features a modern rendition of the iconic song My Way as the soundtrack for images shot onsite at the R&D and manufacturing facilities that were integral to the TLX development. "My Way," and eight additional 15-second spots featuring high-energy music tracks, will run on high-profile national TV programming throughout the late summer and fall.
"The TLX heralds a new era for the Acura sedan lineup and the scale of the marketing effort behind the launch signifies the importance of the model both to the brand and its position within the luxury sedan market," said Michael Accavitti, senior vice president and general manager for the Acura division.
"The TLX delivers a thrill like no other and the marketing effort delivers that message front and center in an emotionally engaging way."
The entire campaign utilizes 'bite-sized' contextually relevant video and digital elements that demonstrate the thrill of driving the new TLX by focusing on specific product highlights, including on-board Siri Eyes Free voice-command capability, Precision All-Wheel Steer™ (P-AWS™) and the Acura exclusive, Super Handling All-Wheel Drive (SH-AWD™).
Integrated Media Placements and Digital Extensions
Acura will run a massive video road block on Facebook with TLX videos reaching nearly 100% of users starting in early September. On Twitter, Acura will run a unique Twitter Cards execution that will allow users to design a car directly within a Tweet. Acura will be using both Promoted Tweets and Promoted Accounts to support this initiative.
Additional awareness for the TLX will be generated via homepage takeovers on major web portals (Yahoo and MSN), and through unique social media "Thrillustrations" – custom illustrations created by New Yorker contributing illustrators. TLX will also be supported with custom digital content on Slate, Business Insider and Car & Driver.
The TLX will be front and center on cable television with "My Way" running concurrently across more than 25 cable networks starting on August 17th.  Additionally, the TLX will be integrated into ESPN's SportsCenter with a month long sponsorship of top college football highlights.
To get customers up close to the TLX, the model will be the featured vehicle at The New Yorker Festival in October and the Sundance Institute NextFest film festival in Los Angeles in August.  Acura is also sponsoring a series of Pop-Up dinners across the country and select nights at the Hollywood Bowl; each venue prominently features the TLX. To capture attention on a large scale, TLX will be featured on several large wallscapes, billboards and street level displays in nine key markets.
To see featured video elements from the TLX "It's that kind of thrill" campaign visit https://www.youtube.com/user/Acura and all campaign creative elements at http://acuracampaigns.com/.
About the 2015 TLX
The all-new 2015 TLX was designed to deliver a unique and compelling blend of sports-sedan dynamic proportion, premium luxury refinement and super-handling performance, appealing to a broad cross-section of luxury customers with three all-new powertrains and advanced chassis technologies that respond intelligently to the will of the driver. The TLX lineup features three distinct model offerings that deliver new levels of quietness and ride comfort for a luxurious driving experience.
About Acura
Acura offers a full line of technologically advanced performance-luxury vehicles through a network of approximately 270 U.S. Acura dealers. The Acura lineup features five distinctive models – the RLX luxury flagship sedan, the TLX performance luxury sedan, the ILX compact luxury sedan, the 5-passenger RDX luxury crossover SUV, and the 7-passenger Acura MDX, America's all-time best-selling three-row luxury SUV. Acura was recently recognized by Edmunds.com for the third consecutive year as leading all luxury brands in retained value after five years of ownership. More than 90 percent of the Acura vehicles sold in America are produced at the company's manufacturing facilities in America, using domestic and globally sourced parts.
[Source: Acura]