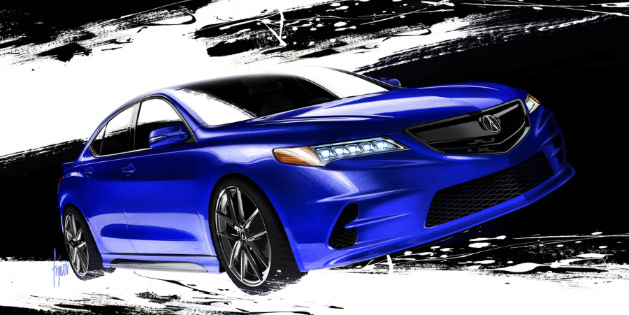 Official release from Acura Media Newsroom:
Acura Puts 2015 TLX Performance and Personalization Front and Center at 2014 SEMA Show
11/03/2014 – TORRANCE, Calif.
Galpin Auto Sports Acura TLX to debut at SEMA featuring custom styling and performance modifications
Acura Racing Spirit alive with radical TLX GT Race Car for Pirelli World Challenge series
2015 Acura TLX features Acura Genuine Accessory package
Acura's 2014 SEMA Show vehicle display will feature three distinct iterations of the hot-selling, all-new Acura TLX luxury performance sedan, with each variant expressing the performance character of the Acura brand and its customization potential.
The display is highlighted by the debut of the Galpin Auto Sports Acura TLX, which features custom exterior styling and chassis modifications by Galpin Auto Sports. The Galpin Auto Sports TLX will be joined by the twin-turbo TLX GT Race Car, jointly developed by Honda Performance Development (HPD) and RealTime Racing, and a 2015 Acura TLX with the Genuine Acura Accessory package.
"The Acura brand has always been about a luxury performance experience, which, of course, includes the look and feel of the product," said Dave Marek, Global Creative Director of Acura Design. "We collaborated with Galpin Auto Sports to help us have some fun in speaking to this fundamental part of Acura DNA and we're excited about what they have helped us create."
Acura's 2014 SEMA Show display will be taking a big step up in prestige with the premiere of a two-tiered exhibit space for show guests. Acura will be hosting media and other special guests on the second tier of the exhibit throughout SEMA Show press days. RealTime Racing's Peter Cunningham also will be in the Acura booth on November 4 with the TLX GT racecar that he campaigns in the Pirelli World Challenge series to talk with SEMA Show attendees.
Galpin Auto Sports Acura TLX
The Galpin TLX represents a collaborative effort between Galpin Custom Car Works and the Los Angeles-based Acura Design Studio. Sketches developed by Acura Design and the exterior cues of the TLX GT racecar served as the basis for performance-oriented exterior modifications made by Galpin. The Galpin TLX showcases a new signature Acura brand color, Andaro Blue. Modifications featured on the Galpin Auto Sports Acura TLX include:
Custom aero body kit with new front and rear bumpers, side skirts and deck-lid spoiler
ADV5.0 M.V2 SL custom wheels with gunmetal inner and liquid smoke outer – 19×9+38 Front/19×9+35 Rear
Pirelli 245/40/19 P Zero Tires
RSR Sport SI Series suspension kit with fully adjustable coilovers featuring 36-way damping adjustment
Wilwood Superlite 6 Piston Caliper with 14″ Vented Rotor Front Brakes
Wilwood Superlite 4 Piston Caliper with 14″ Vented Rotor Rear Brakes
Custom exhaust outlets
"We were very excited to have Dave Marek and Acura come to us with the idea of customizing the all new TLX. Blending luxury and performance elements into the design, gave it a factory look with a customized flare that would speak volumes to the brand," said Brandon Boeckmann, Galpin Auto Sports Operations Manager.
2015 Acura TLX with Acura Genuine Accessory package:
The TLX with the Acura Genuine Accessorypackage features a number of new factory accessories developed exclusively for the TLX and available to customers through their Acura dealers. Accessories on display at the SEMA Show include:
Aero Kit (Front, rear and side underbody spoilers)
Decklid Spoiler
19-in Diamond-Cut Alloy Wheels (Tire Michelin (245/40R19)
Door Trim, Chrome
All-Season Floor Mats
Trunk Tray
Illuminated Side Sills
Acura TLX GT Racecar
Developed from the production 2015 Acura TLX by Honda Performance Development (HPD) and RealTime Racing, the Acura TLX GT Race Car features a HPD chassis and aerodynamic performance parts approved for Pirelli World Challenge GT-class competition. It is powered by a direct-injected, twin-turbocharged V6 engine, developed by HPD from the normally aspirated engine that powers the production TLX luxury sport sedan. The Acura TLX GT Race Car is campaigned by Wisconsin-based Peter Cunningham's RealTime Racing in the Pirelli World Challenge GT-Class.
About the 2015 TLX
The all-new 2015 TLX was designed to deliver a unique and compelling blend of sports-sedan dynamic proportion, premium luxury refinement and super-handling performance, appealing to a broad cross-section of luxury customers with three all-new powertrains and advanced chassis technologies that respond intelligently to the will of the driver. The TLX lineup features three distinct model offerings that deliver new levels of quietness and ride comfort for a luxurious driving experience.
[Source: Acura]