Mar 3, 2019 – AUSTIN, Texas
Kyle Marcelli, Martin Barkey earn season's first win for Acura Motorsports
Marcelli, Barkey lead the ProAm class in points after opening race weekend
Ryan Eversley, Till Bechtolsheimer complete Acura NSX 1-2 finish on Sunday
Kyle Marcelli and Martin Barkey wasted no time in taking the new Acura NSX GT3 Evo to Victory Lane, earning the car's first ProAm class win in Blancpain GT World Challenge America competition and leading an Acura 1-2 Sunday at Circuit of the Americas in Austin, Texas.
Marcelli started from the pole in his Racer's Edge Acura NSX GT3 Evo in Sunday's event and deftly maneuvered through opening-lap contact to build an early lead. The Canadian driver then handed off to Barkey, who held serve during a late caution period and carried the #80 car home ahead of the NSX GT3 of Ryan Eversley and Till Bechtolsheimer to complete an Acura 1-2 finish. The win came on the heels of Saturday's season-opener that saw Marcelli and Barkey score a podium with a third-place finish.
Eversley and Bechtolsheimer also avoided the early carnage in Sunday's event, then overcame their misstep in the pits to secure a second-place finish. The weekend saw Eversley return to the cockpit of the Acura after a 2018 season that saw him earn a World Challenge TCR title in the Honda Civic Type R. The #8 Gradient Racing Acura NSX GT3 finished fifth in Saturday's 2019 opening race, and is currently third in the series point standings.
Next
Following this weekend's season opener at COTA, the Blancpain GT World Challenge America series takes a six-week break before resuming for Rounds Three and Four April 26-28 at Virginia International Raceway.
Social media content and video links from this weekend's Acura Motorsports activity at the Circuit of the Americas are available on Facebook at (https://www.facebook.com/HondaRacingHPD) and on Twitter at (https://twitter.com/HondaRacing_HPD).
Quotes
Kyle Marcelli (co-driver, #80 Racers Edge Motorsports Acura NSX GT3 Evo) claims the early-season ProAm championship lead with finishes of third and first this weekend: "We exceeded our expectations for the weekend, for sure.  We thought coming in [to the weekend] that we'd be happy with a pair of top fives [race results], but the team gave us a really fast Acura NSX and we had a strong weekend."
Ryan Eversley (co-driver, #5 Gradient Motorsports Acura NSX GT3 Evo) finished second in the ProAm class on Sunday: "A 1-2 for Acura is a great way to cap the opening weekend of GT Racing.  It was a pretty crazy start [on] Sunday, guys were hitting us and I just wanted to get through clean and get it back to [co-driver] Till [Bechtolsheimer] in one piece. We had a problem with our seat belts on the pit stop, but we recovered well. It was a good race and I think if we had 10 more minutes, we might have had a shot at the win."
John Whiteman (Manager, Commerical Motorsports, Honda Performance Development): "The Acura NSX GT3 Evo teams were strong throughout the weekend, and ended with an incredible 1-2 finish on Sunday's race.  The performance and driveability of the new Evo package was on full display here at the Circuit of the Americas.  Congratulations to the teams for their hard work and well-deserved results!"
Blancpain GT World Challenge America
Circuit:
Circuit of the Americas, Austin, TX
Weather:
Saturday – Cloudy, cool, 56 degrees F
Sunday –  Cloudy, cold, windy, 42 degrees F
Saturday Race Top Five ProAm Results:
Ps.
Class
Drivers
Team
Chassis
Laps/Notes
1.
ProAm
Jeff Segal / Wei Lu
TR3 Racing
Ferrari 488 GT3
38 laps
2.
ProAm
Dennis Olsen / Anthony Imperato
Wright Motorsports
Porsche 911 GT3R
38 laps
3.
ProAm
Kyle Marcelli / Martin Barkey
Racer's Edge Mtspts
Acura NSX GT3 Evo
38 laps
4.
ProAm
Maxi Buhk / JC Perez
P1 Motorsports
Mercedes-AMG GT3
38 laps
5.
ProAm
Ryan Eversley / Tiill Bechtolsheimer
Gradient Racing
Acura NSX GT3 Evo
38 laps
Sunday Race Top Five ProAm Results:
Ps.
Class
Drivers
Team
Chassis
Laps/Notes
1.
ProAm
Kyle Marcelli / Martin Barkey
Racer's Edge Mtspts
Acura NSX GT3 Evo
40 laps
2.
ProAm
Ryan Eversley / Tiill Bechtolsheimer
Gradient Racing
Acura NSX GT3 Evo
+2.823 seconds
3.
ProAm
Dennis Olsen / Anthony Imperato
Wright Motorsports
Porsche 911 GT3R
40 laps
4.
ProAm
Colin Braun / George Kurtz
DXDT Racing
Mercedes-AMG GT3
40 laps
5.
ProAm
Maxi Buhk / J.C. Perez
P1 Motorsports
Mercedes-AMG GT3
40 laps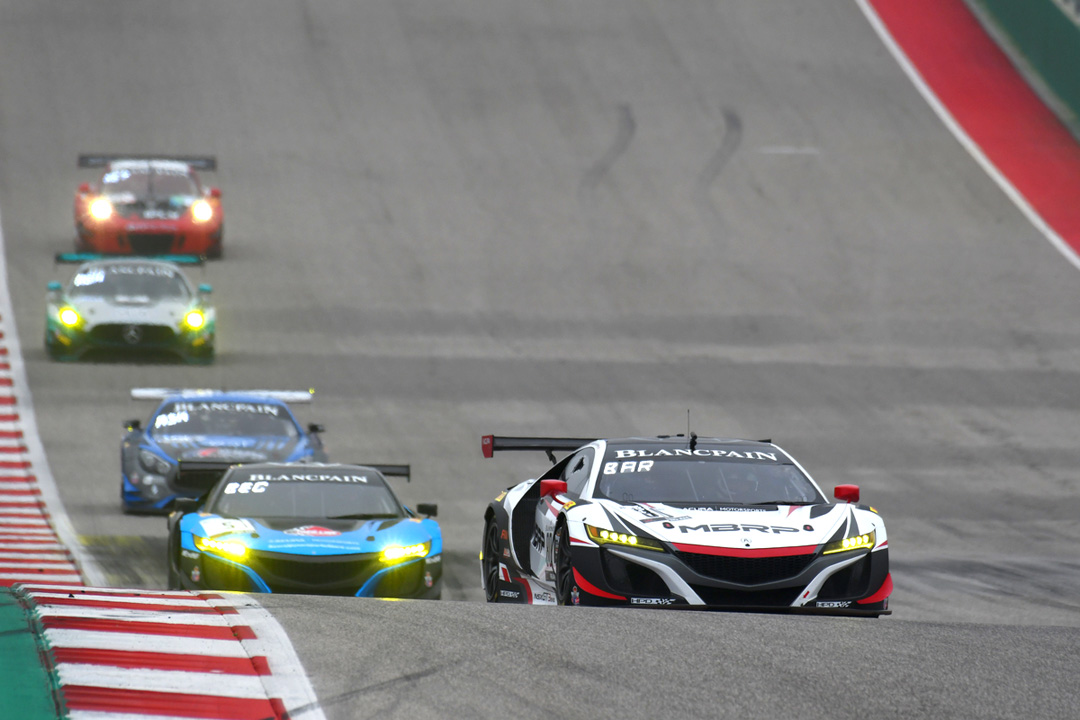 [Source: Acura]