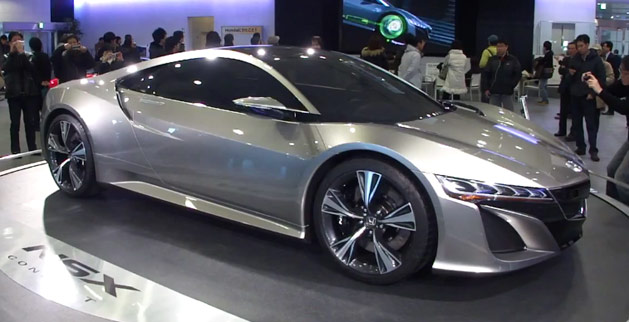 If you were hoping to get a glimpse of the Acura NSX Concept at the Chicago Auto Show last week you probably weren't alone. Unfortunately the hot concept wasn't even on the continent, it had been flown out to Tokyo to make its Japanese debut as a Honda.
We've seen the Gran Turismo rendered Honda NSX in a previous post, but the real concept was finally put on display for the anxious Japanese public early February. A post from Honda Japan's official site did indeed say it would be launched as a Honda in three years. Also mentioned was entry in Japan's Super GT series where Honda is currently running the front engine, V8 powered HSV-010 GT. The Honda NSX Concept is set to make its European debut at the 2012 Geneva Motor Show March 8-18th.
Have a peek at the Honda NSX Concept below with its blacked-out grille. Which do you think it looks better as, an Acura or a Honda?
[Source: YouTube user mirai2220]