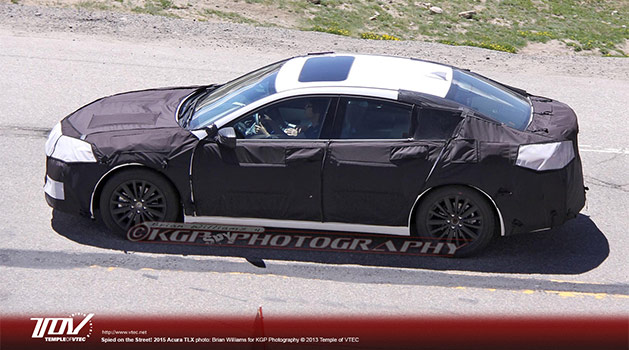 There's been some debate about this vehicle's true identity, but the general consensus is that it is indeed an Acura TLX prototype. A new batch of photos have just been released from KGP Photography along with some of their predictions on the upcoming model:
"A prototype for the 2014  Acura TLX has headed for the mountains, and we have a slew of shots of it undergoing elevation testing.
The new TLX has been downsized a bit compared to outgoing TL (which it replaces), in order to leave a little more space between it, and the new range-topping RLX. The TLX springs from the mechanicals of the updated Honda Accord, and is expected to be powered by Honda's new Earth Dreams SOHC 3.5-liter 24-valve V6, with direct injection and mated to either a six-speed automatic. A 7-speed dual-clutch transmission is also to be a possibility.
The TLX is also expected to share the four-cylinder hybrid drivetrain from the Honda Accord, representing a new model compared to the existing TL lineup.
We expect to see thinly-veiled "concepts" of the TLX to begin popping up on the auto show circuit by year's-end."
Check out the full set of photos at the Temple of VTEC – vtec.net.
[Source: Temple of VTEC]