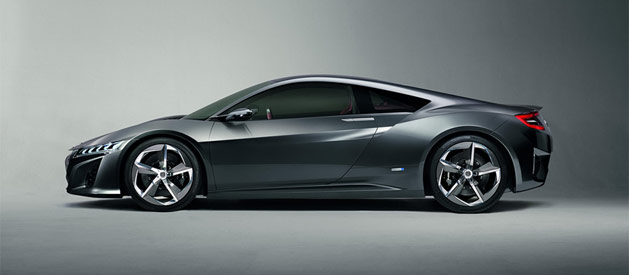 As the Frankfurt Motor Show opened its doors to the press today, we're hearing some new development details about the upcoming Acura/Honda NSX. After reading what various European publications have posted from their chat with NSX Development Chief Ted Klaus, here are some key points:
• On schedule for a 2015 launch date.
• Open-top model to follow.
• Powertrain is being developed in Japan, chassis development in the US.
• Will compete with current sports car market, specifically naming the Ferrari 458 Italia as a target.
• Utilization of "world-first lightweight tech".
• Interior quality to be a step above the Audi R8.
• May involve "outside" driver input as they did with Ayrton Senna on the first NSX.
Get the full story from the links below:
Top Gear – New Honda NSX aims for Ferrari 458
Auto Express – New NSX to target Audi R8
Auto Express – Honda to use McLaren expertise with NSX development
Autocar – Honda NSX to launch in 2015
[Source: Top Gear, Auto Express, Autocar]