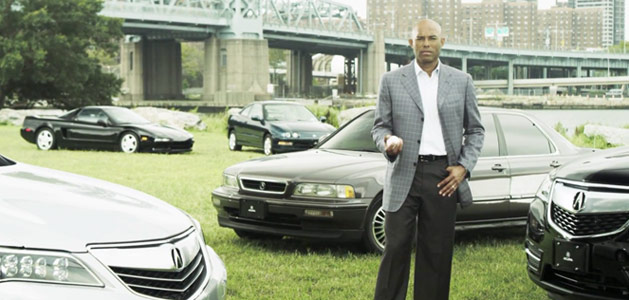 Mariano Rivera bought his first Acura in 1995, the same year he made his Major League debut with the New York Yankees. 18 years later and 19 seasons with the Yankees, Rivera is still a loyal Acura owner, and retires as one of the greatest closing pitchers in the history of baseball.
See the 30-second spot titled "Legends" featuring Mariano Rivera in the video below.
Sure, legends are born. Born of years of hard work and dedication. Defined by innovation. Building a history marked by moments of greatness — that tend to repeat and last forever.
Make your own history. Be Legendary.
Acura "Legends" with Mariano Rivera is presented by the New York Acura Dealers.
"Legends" is a nod to Acura's history and the years it overlapped with Mariano Rivera's career. As he walks along and interacts with new Acura models and iconic Acuras, the legendary closer reflects on the evolution of his career along with the evolution of the Acura brand.
The commercial features the redesigned 2014 Acura MDX and the flagship 2014 RLX sedan, as well as cameos from iconic Acuras of the past: a 1991 Acura Legend, 1995 Acura Integra and 1991 Acura NSX.
"Legends" also features the voice Brooklyn-born actor Steve Schirripa, best known for his role as Bobby "Bacala" Baccalieri on the HBO hit show The Sopranos.
[Source: New York Acura Dealers via YouTube]