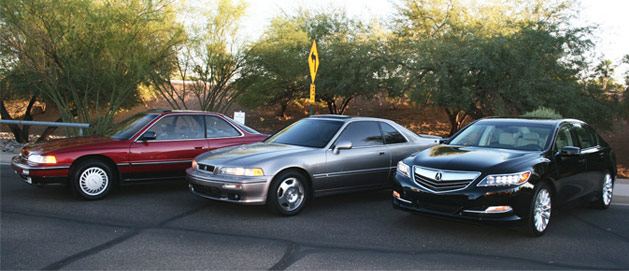 The Acura RLX greeted me with "Come on in, Tyson," by illuminating its exterior door handle as I approached the driver's side. I stepped carefully over the stainless steel door sill and settled into the ivory-skinned bucket seat. My index finger instinctively went for the start button and awakened 310 well-trained horses from their slumber. The subtle sound of Jazz music drifted through the airwaves via 14 high-end speakers, and the car's automatic climate control immediately customized the cabin environment to my liking. This, my friends, was not just a car. It was a full-blown, Acura-fied luxury travel experience and I had just scored a front-row seat.
RLX Heritage
In its day, the Acura Legend was the biggest and the best that the Honda lineup of automobiles had to offer. When my Legend LS coupe was new in 1994, it sold for a whopping $41,885. For comparison, a top-line Honda Accord EX at the time was $19,950. The Legend flagship had features that were far ahead of its time. Twenty years later, the Acura RLX carries on that same mission: It delivers unsurpassed tech features, the most advanced safety systems in the industry, and performance levels that only sports cars could dream of in the 1990's.
Here's the RLX ancestry summarized in simple list form:
1986 – 1995: Acura Legend
1996 – 2013: Acura RL
2014+: Acura RLX
A year ago, I traveled to the Los Angeles Auto Show for the debut of the all-new RLX Concept. The world was mesmerized by its Jewel Eye headlamps and its innovative Precision All-Wheel Steering (P-AWS). It's time to now put that design to a real-world Drive to Five evaluation. The latest iteration of Acura's flagship sedan brings more to the table than ever before; I shared the extensive list of features of this car in my post here, so I won't go into those details again. Let's cut to the chase: How's it perform?
Where To This Time, Tyson?
The engineers of the RLX have gone to great lengths to give it optimal handling and balance. I thought it fitting that I would put that P-AWS to test in a drive with several friends on one of Arizona's curviest roads: the Catalina Highway.
Constructed in 1933 as a way to reach the resort town of Summerhaven from Tucson, Arizona, the Catalina Highway climbs over 6,000 feet in a distance of 27 miles. And these aren't leisurely miles. This is the type of highway where "both-hands-on-the-wheel" attention is critical. Catalina is loaded with hairpin curves, narrow shoulders, and blind corners — all great elements for a thrill ride. I took the ILX there last year.
My tester RLX was dressed in the color that every luxury sedan looks best in: Black. The Crystal Black Pearl RLX that I drove this week was equipped with both the Tech package and the Advance package.
After logging over 300 miles in the RLX on Saturday, I felt like I could hop back in the driver's seat and easily do it all over again. To that end, I have discovered perhaps the RLX's best attribute: It's a car that makes every drive seem effortless. Its quiet, composed, and predictable behavior makes it comfortable for any distance. I would, without hesitation, drive the RLX to Fairbanks, Alaska and back. Twice.
My friend Ryan, who drives a 2006 Acura TL, stated, "The ergonomics are very Honda." It takes just a few minutes to get comfortable and to become acquainted with the key controls. The interior design is masterfully executed in both form and function. Two-tone door panels add visual interest and the sweeping instrument panel gives a feeling of cavernous interior dimensions. I'm quite certain the rear seat leg room is better than any first class airline. Oh, and those back seats are heated, too.
Canyon Carving
Now here's where I wanted to lure out the RLX's alter-ego. Inside that chiseled body and vault-like interior, does this car have a heartbeat? Can it evoke any kind of performance driving excitement? I assure you, after absolutely mashing the RLX accelerator to the floor and flying up the Catalina Highway, the answer is a resounding YES.
Most people wouldn't take a luxury car in hot pursuit of a more powerful 2-seater sportscar, but that's exactly what I did. When Matt set an aggressive pace up Mount Lemmon in his Nissan 370Z 6-speed, the RLX was right there on his tail. Sport Mode, I discovered, changes the entire personality of the RLX. Shift points are modifed. Engine response is notably different. And when pushed, the RLX chassis is composed and firm. When others in our 8-car caravan were having to cut corners in the twisties, I was able to keep the car within my lane and retain absolute control over its direction. Dare I say it? This car was fun to toss around. And "toss" isn't a word that you usually associate with a vehicle that weighs 4,000 pounds and has features like a power rear window sunshade.
With the stereo blasting Sirius XM channel 51 (BPM), all 4 windows down and the moonroof wide open, I was in my element, calling those 310 willing horses into action. On one leg of the trip, I had a passenger, Jack, comment, "This thing has some growl when you get on it!" He wasn't kidding. The engine note from the direct-injected 3.5 liter V6 is addicting; one listen and you'll want to hold the car in gear with the steering wheel-mounted paddle shifters and let it sing all the way to the redline. That's what I did.
Return to Phoenix
After having my faith in Acura's "Precision Crafted Performance" heritage reinforced, my friends and I headed back to Phoenix with our hodge-podge of vehicles. The RLX feels right at home at 80 mph on the interstate. In fact, the cabin was so quiet that Jack was asleep in the passenger seat for a good chunk of the drive.
The RLX is just about as close as you can get to an autonomous car: With the lane-keeping assist system (LKAS) activated, the car will retain its position in a lane. If the driver removes his or her hands from the wheel long enough, it will prompt with a message "Steering Required" to make sure he or she is awake. The adaptive cruise control made my trip a breeze – even with notoriously heavy traffic on the Tucson-to-Phoenix I-10 corridor. The car maintained a preset distance from the vehicle ahead of us. These types of features would make a long drive amazing.
Real-World Insights
Pros:
The ultimate cross-country ride. Very refined, quiet and smooth on the highway. Zero wind noise. The doors close solidly. The car has "substance" and feels quality throughout. Grant Road in Tucson is in horrible shape, but the RLX made it bearable.
Comfort is top-notch. Ventilated seats work almost immediately – a feature that would be used frequently here in Phoenix.
Safety and driver-assistance features are great helps, especially the adaptive cruise control and lane departure assist systems.
Competent canyon carver. Despite its size, the RLX suspension is confidence-inspiring. P-AWS is subtle yet important for helping this big car feel nimble in tight cornering situations.
Luxury is cutting edge. Love the little touches like power folding sideview mirrors. Jack said, "Now this is luxury" when he was playing with the rear window sunshades.
Cons:
Front-wheel-drive platform does exhibit some tire spin from hard acceleration. AWD will help this car launch with more authority.
Dual-screen instrument panel interface is often duplicative in nature. When I changed the music volume via the steering wheel control, it showed the audio level in 3 separate places! Also, the album art is teeny and there appears to be plenty of space to make it bigger.
For a $61k car, it should have foglights.
Final Take
The Acura RLX gets more than its share of criticism. I heard, "Looks like an Impala," a couple of times this week while showing it off. And some people will never get over the front end styling no matter how much Acura refines it. But I honestly feel like if everyone who judged this car would take a few moments in the driver's seat before declaring it a failure, their ballots would swing completely in the other direction.
The RLX brought just a huge grin to my face as I threw it around the corners at Mount Lemmon, and it pampered me in the process. The travel experience in the RLX can be as engaging OR as effortless as the driver wishes to make it. That's the beauty of this car. Want to rocket up the mountain and hug those curves? Great. Feeling drained after a hectic workday? I can think of no better vehicle to commute in. The RLX can play many roles, and I can say with certainty that it's a vehicle I would be proud to own. Thanks to Acura for the loan!

[Source: Tyson Hugie]