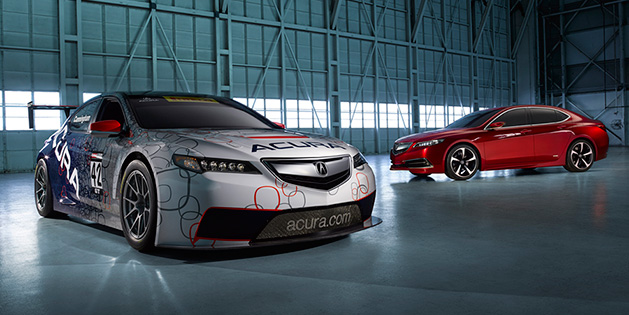 Official release from Acura Media Newsroom:
Acura TLX GT Race Car Unveiled At North American International Auto Show
01/14/2014 – DETROIT
Acura Motorsports today pulled the wraps off the new 2015 Acura TLX GT Race Car at the North American International Auto Show, announcing plans to move up to the GT category of the growing and highly competitive Pirelli World Challenge Championship.
To be campaigned by long time Acura Motorsports partner RealTime Racing, the new TLX GT will move Acura into the top category of the Pirelli World Challenge, facing competition that includes the Audi R8 LMS, Cadillac CTS-V, Chevrolet Corvette, Dodge Viper, Lamborghini Gallardo, Mercedes SLS, Nissan GTR, Porsche 911 and Ferrari 458.
"The 2015 Acura TLX is a true luxury sport sedan, so it is fitting that the car be raced against several of its natural luxury competitors in the Pirelli World Challenge," said Art St. Cyr, President of Honda Performance Development and Vice President-Product Planning and Logistics, American Honda Motor Co., Inc. "Acura and Peter Cunningham's RealTime Racing organization have a long history of success together, and we look forward to adding to that tradition with the Acura TLX GT race car in 2014."
Developed from the production 2015 Acura TLX by HPD, the racing arm of American Honda Motor Co., Inc., the Acura TLX GT Race Car will feature HPD chassis and aerodynamic performance parts approved for Pirelli World Challenge competition, and will be powered by a direct-injected, twin-turbocharged V6 engine, developed by HPD from the normally aspirated, production TLX luxury sport sedan. It will utilize all-wheel drive, as found in Acura's Super-Handling All Wheel Drive™ (SH-AWD™).
The Acura TLX GT Race Car will be campaigned by Wisconsin-based RealTime Racing, the most successful team in Pirelli World Challenge history. Established in 1987 by owner/driver Peter Cunningham, RTR has raced and won with both Honda and Acura products. Since entering the Sports Car Club of America Pro Racing-sanctioned World Challenge series in 1993, the team has scored a record 85 race victories on its way to 14 Manufacturers' Championships and 14 Drivers' Championships.
"In our 27 years of racing Hondas and Acuras, we have developed a clear understanding of what it takes to win races and championships," RTR team principal Cunningham said. "In 2014, the Pirelli World Challenge GT class looks to be more competitive and diverse than at any time in the 25-year history of the series. RealTime has competed successfully in this category before, and we look forward to the challenges that lie ahead. With the onslaught of these world-class GT-3 competitors joining the fray, we will be working hard to develop the new TLX GT into a winning package. But that's what we love to do."
About Honda Performance Development
HPD was founded in 1993 as the performance arm of American Honda, to spearhead the company's entry into Indy car racing. No other manufacturer has matched Honda's success in Indy cars, which includes 204 race victories, 15 drivers' championships, six manufacturers' championships and nine consecutive Indianapolis 500 victories. In 2013, Honda powered veteran Scott Dixon to four race wins and the 2013 IZOD IndyCar Series championship; and Tristan Vautier to series Rookie of the Year honors.
HPD's prototype racing efforts have resulted in more than 60 victories and multiple American Le Mans Series championships. The company's sports car racing debut in 2007 at the 12 Hours of Sebring marked the first win for HPD's LM-V8 engine; and the first for a Honda racing engine designed and developed outside of Japan. HPD won the LMP2 title in the inaugural 2012 World Endurance Championship and has twice won the LMP2 category at the 24 Hours of Le Mans since 2010. In 2013, HPD and Honda again swept the LMP1 and LMP2 manufacturers', engine, team and drivers' championships in the American Le Mans Series; while HPD-equipped Strakka Racing claimed the LMP1 class win at the 24 Hours of Le Mans for private team entries.
HPD participates in competition on both two wheels and four. The company offers a complete line of race engines for cars from grass roots to pinnacle; for professional, amateur and entry-level racers. For more information about HPD and the company's racing and Street Performance product lines, please visit http://hpd.honda.com.
[Source: Acura]