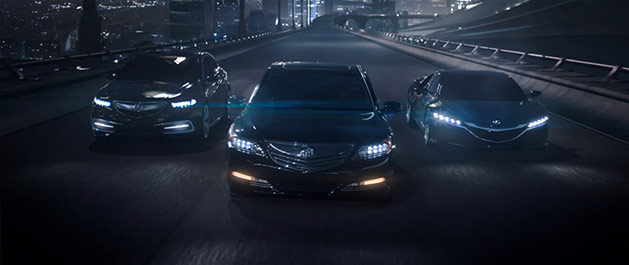 Official release from Acura Media Newsroom:
Acura to Debut New "Let The Race Begin" Commercial This Weekend During Prime-Time Television
New advertisement showcases the all-new Acura TLX Prototype sports sedan, the RLX Sport Hybrid SH-AWD™ flagship sedan and the NSX Concept supercar, bringing together three championship performers for the first time in Acura national advertising
02/07/2014 – TORRANCE, Calif.
Acura will debut a futuristic and emotional new television commercial in the top 14 U.S. media markets during prime time network sports programming this weekend, challenging drivers to seek out a new luxury-performance experience.
Set against the backdrop of an otherworldly racetrack, the new Acura TV commercial opens with four robotic horses, representing traditional approaches to luxury performance, emerging from the starting gate and aggressively jostling for position. Spectators watch from the grandstand in a euphoric state, among them a more enlightened and informed individual who seems to know that something unexpected is about to happen. At that moment, an elegant and powerful dark horse emerges from the pack and transforms into the all-new 2014 Acura RLX Sport Hybrid SH-AWD™, which is then joined by the 2015 TLX Prototype and the NSX Concept as all three vehicles surge forward. An on-screen graphic declares "Let the race begin."
"With the two best luxury SUVs in America, we're moving to sharpen our focus on Acura's two incredible new sedans and on the NSX supercar as the ultimate expression of Acura performance," said Michael Accavitti, senior vice president, American Honda Motor, Co., Inc. "We think sports programming provides us with a great context to showcase the incredible athleticism of these new Acura vehicles and the competitive spirit of the Acura brand."
The TLX Prototype and RLX Sport Hybrid SH-AWD models featured in the new commercial reflect the future of Acura's performance sedan line-up and their new competitive position in the luxury set. The 377-horsepower* RLX Sport Hybrid SH-AWD (Super Handling All-Wheel Drive), with the world's first hybrid electric torque-vectoring all-wheel-drive system, goes on sale this spring.
The all-new TLX, which was showcased in prototype form at the North American International Auto Show in Detroit last month, will launch mid-year offering a blend of luxury refinement and sports-sedan athleticism, with exhilarating performance enhanced by next-generation Acura powertrain and dynamic handling technologies.
The mid-engine NSX supercar, launching in 2015, will be powered by a mid-mounted, direct-injected and twin-turbocharged V-6 engine mated to Acura's Sport Hybrid SH-AWD™ system.
The new commercial is available for viewing on Acura's YouTube Channel: at http://youtu.be/3MuKgGaW7o0
Debuting Saturday night during NBC prime-time programming, Acura's Let the Race Begin commercial will air extensively on high-profile events in February. The commercial also will be seen as part of Acura's sponsorship of the NCAA "March Madness" basketball tournament next month and on select cable networks in April. The spot will be supported by a series of digital activations, Acura's social channels and on the Acura.com website.
Acura's new TV commercial is a remarkably visually stunning film and technical achievement. Created by Acura's lead creative agency Mullen, it was shot over three days on location at Fairplex Park in Pomona, CA by director Adam Berg. All of the initial horse racing scenes were performed and filmed live. The after-effects work to convert the horses into metallic creatures took place over the course of four weeks under the direction of the post-production company MPC Los Angeles.
[Source: Acura]