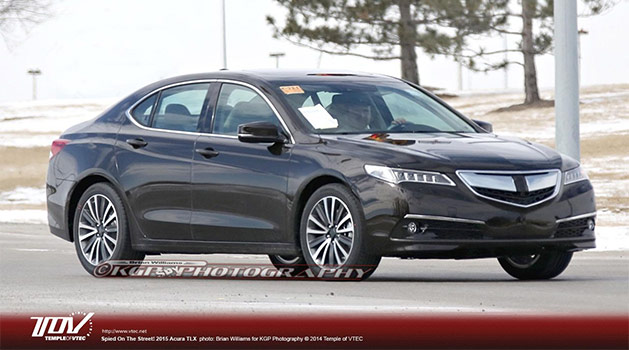 A new batch of 2015 Acura TLX spy shots have emerged today from KGP Photography:
"We caught a couple of undisguised, fresh-from-the-factory 2015 Acura TLX test cars, giving us the first look at at the truly production-spec replacement for the TL and TSX.

The TLX Concept that debuted at the recent North American International Auto Show in Detroit wasn't exactly a complete look at a showroom-ready TLX. The black and white test cars caught on their post-build shakedown runs reveal toned-down front- and rear-fascias. The concept showcased a deeper front air-dam and more aggressive rear bumper, with flared sculpting and bold chrome accents. Those aggressive details are not found on the final production models, making for a more tame TLX that will enter Acura's lineup after its New York Auto Show debut." KGP Photography
UPDATE: Sources at TOV now say that this is not a North American model.
Head over to Temple of VTEC – vtec.net for the full gallery.
[Source: Temple of VTEC]