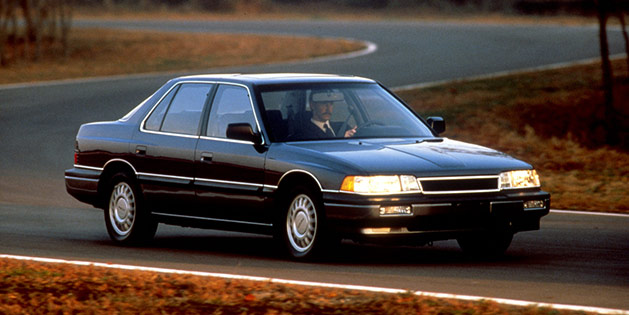 "Official" release from Acura Media Newsroom:
04/01/2014 – TORRANCE, Calif.
Acura today celebrated an important milestone, marking 28 consecutive years as the top luxury automobile brand in America based on alphabetical ranking1.  Since its inception as the first luxury brand from a Japanese automaker, in March 1986, Acura has maintained a clear alphabetical leadership position over all other luxury brands, including Audi, BMW, Mercedes and Lexus.
"At Acura, there are many things we're proud of, and one of those things is our alphabetic dominance.  I mean, these are the A-B-Cs of marketing, and no one does it better than Acura," said Mike Accavitti, Senior Vice President and General Manager of Acura.  "Audi has been nipping at our heels since the beginning, and then there was that deal with Amati, which never really had a shot.  We even toyed with adding another A on the front of the name, but we're confident that we can maintain our leadership, assuming no one comes along with Abalone or Aardvark or something like that."
Next month, Acura will debut its newest model, the Acura TLX sports sedan, at the 2014 New York International Auto Show (no kidding).  The Acura press conference is scheduled for 1:50 p.m. (EST) on April 16, 2014 inside the Jacob Javits Convention Center. The conference can also be viewed live on www.youtube.com/acura.  For members of the media, press materials and photography will be posted at www.acuranews.com immediately following the press conference.
"We probably should have called it the A-TLX, "added Accavitti.  "But it's still a damn fine vehicle, even if it's not first in the yellow pages."
Expressing his enthusiasm for the future of the Acura brand, Accavitti, who leads the alphabetical rankings of luxury automobile marketing executives, concluded by saying, "Happy April Fool's Day everyone!"
About Acura
Acura offers a full line of technologically advanced performance luxury vehicles through a network of 275 dealers within the United States. The Acura lineup features six distinctive models including the RLX luxury flagship sedan, the TL performance luxury sedan, the TSX Sport Wagon and sedan, the ILX compact luxury sedan, the RDX luxury crossover SUV, and the all-new MDX luxury sport utility vehicle.
[Source: Acura]