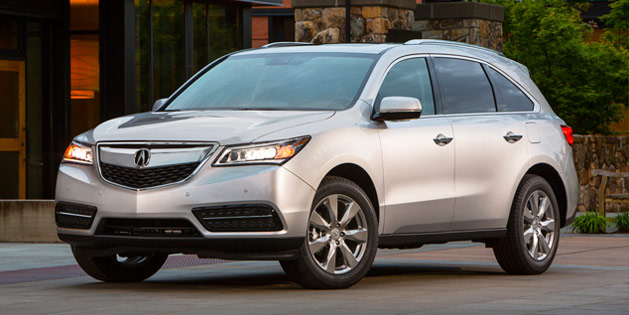 Official release from Acura Media Newsroom:
04/17/2014 – TORRANCE, Calif.
Acura's dynamic luxury light truck duo, the 2014 MDX luxury sport utility vehicle and the 2014 RDX luxury crossover sport utility vehicle, have been named as Top Rated Vehicles by Edmunds.com.
"This honor from Edmunds confirms what the sales records achieved by MDX and RDX already demonstrate; Acura has the best one-two punch in the luxury marketplace," said Mike Accavitti, Senior Vice President and General Manager of the Acura Division.  "With the five-passenger RDX and new seven-passenger MDX, Acura continues to deliver an outstanding combination of exhilarating performance, great fuel efficiency, extraordinary luxury and value."
March 2014 sales of the MDX and RDX were up nearly 46 percent from a year earlier.  MDX set a record with March sales of 5,793 units, while RDX continued its remarkable string of 23 consecutive monthly sales records on sales of 4,580 units.
Edmunds.com evaluates about 200 cars each year.  Each vehicle is driven on a standardized road-test loop and a test track where instrumented testing in controlled conditions is conducted.  Edmunds.com uses its findings to grade how a car stacks up against competitors in respect to size and price class. Vehicles that earn an 'A' rating receive an Edmunds.com Top Rated Award.
About Acura
Acura offers a full line of technologically advanced performance luxury vehicles through a network of 275 dealers within the United States. The Acura lineup features six distinctive models including the RLX luxury flagship sedan, the TL performance luxury sedan, the TSX Sport Wagon and sedan, the ILX compact luxury sedan, the RDX luxury crossover SUV, and the all-new MDX luxury sport utility vehicle.
[Source: Acura]