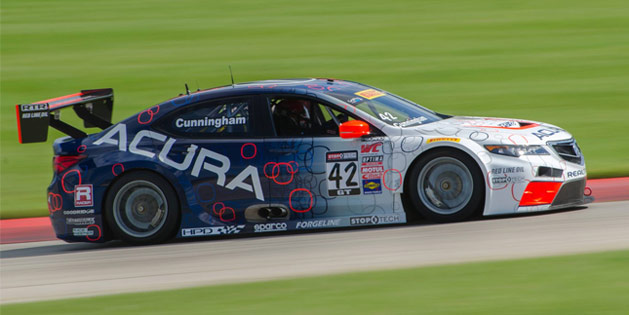 Official release from Acura Media Newsroom:
07/31/2014 – TORRANCE, Calif.
2015 Acura TLX to race in premier GT category
Single-car entry for RealTime Racing and driver Peter Cunningham
Race debut this weekend at the Mid-Ohio Sports Car Course
After completing an initial test program, Acura Motorsports will debut the new 2015 Acura TLX GT in Pirelli World Challenge competition this weekend at American Honda's "home" circuit, the Mid-Ohio Sports Car Course, in the hands of RealTime Racing owner/driver Peter Cunningham.
The new TLX GT will move Acura into the top category of the Pirelli World Challenge, facing competition from the Audi R8, Bentley Continental, Cadillac CTS-V, Dodge Viper, Ferrari 458, Lamborghini Gallardo, McLaren 12C and Porsche 911.
Cunningham will pilot the Acura in a pair of Pirelli World Challenge events during a doubleheader race weekend, on Saturday, August 2 and Sunday, August 3. The Pirelli World Challenge series supports with the Honda Indy 200 Verizon IndyCar Series weekend at Mid-Ohio.
"We're excited to debut the Acura TLX GT race car in front of our 'hometown' audience of associates from the many Honda facilities in central Ohio," said Art St. Cyr, President of Honda Performance Development and Vice President, Auto Operations, American Honda. "The competition in the Pirelli World Challenge is fierce, including many of the luxury makes the TLX will compete with on the sales floor. Acura has never shied away from a challenge. Instead, we seek it out, both on-track and in the marketplace."
Developed from the production Acura TLX by HPD and RealTime Racing, the Acura TLX GT features HPD chassis and aerodynamic performance parts approved for Pirelli World Challenge competition. It is powered by a direct-injected, twin-turbocharged V6 engine, developed by HPD from the production TLX, and will utilize all-wheel drive, as found in Acura's SH-AWD system.
RTR has raced and won with both Honda and Acura products for more than two decades  Since entering the Sports Car Club of America Pro Racing-sanctioned World Challenge series in 1993, RTR has scored a record 85 race victories on its way to 14 Manufacturers' Championships and 14 Drivers' Championships.
"The Pirelli World Challenge has a lot of strong competitors in GT, but the TLX is the only all-wheel-drive car in the category. For our four-door sedan to be racing head-to-head with the likes of Ferrari and Lamborghini, among others, is pretty cool," RTR team principal Cunningham said. "We're ready to go, and we're going to show the competition what the Acura TLX GT can do."
About Honda Performance Development
HPD was founded in 1993 as the performance arm of American Honda, to spearhead the company's entry into Indy car racing. No other manufacturer has matched Honda's success in Indy cars, which includes 211 race victories, 15 drivers' championships, six manufacturers' championships and 10 Indianapolis 500 victories, including this year's triumph by Ryan Hunter-Reay of Andretti Autosport in the 98th renewal of the event. In 2013, Honda powered veteran Scott Dixon to four race wins and the 2013 IZOD IndyCar Series championship.
HPD's prototype racing efforts have resulted in more than 70 victories and multiple American Le Mans Series championships. The company's sports-car racing debut in 2007 at the 12 Hours of Sebring marked the first win for HPD's LM-V8 engine and the first for a Honda racing engine designed and developed outside of Japan. HPD won the LMP2 title in the inaugural 2012 World Endurance Championship and has twice won the LMP2 category at the 24 Hours of Le Mans since 2010. In 2013, HPD and Honda again swept the LMP1 and LMP2 manufacturers', engine, team and drivers' championships in the American Le Mans Series; while HPD-equipped Strakka Racing claimed the LMP1 class win at the 24 Hours of Le Mans for private team entries.
HPD participates in competition on both two wheels and four. The company offers a complete line of race engines for cars from grass roots to pinnacle; for professional, amateur and entry-level racers. For more information about HPD and the company's racing and Street Performance product lines, please visit http://hpd.honda.com.
[Source: Acura]