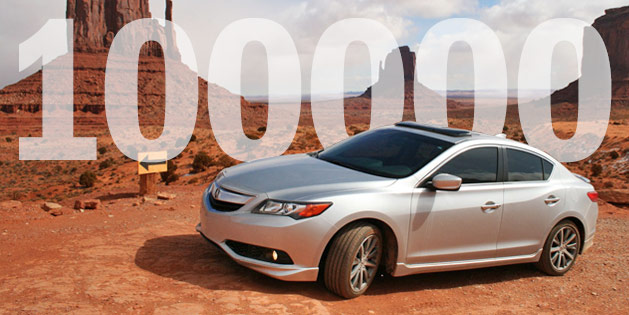 When Acura's John Watts handed me the key to my 2013 Acura ILX 6-speed on June 12, 2012, I don't think he realized just how quickly I was going to put that car through its paces. By the time it was a year old, its mileage had already taken it out of warranty. And now, some 28 months after driving off into the sunset with a factory-fresh 16-mile ILX, it's surpassed the 100,000 mile mark. And it's done so with flying colors – just routine maintenance and an occasional wash.
Will I take this ILX as far as my now-531,000 mile 1994 Legend? I'm still not sure. But, I'll confirm with a certainty that Acura has definitely still "got it." The ILX is as solid today as ever, and it seems anxious every day to start up and to continue this mileage crusade. Thanks again to Acura for the chance to spend some time behind the wheel.
See you at the next checkpoint.
Head over to Drive to Five Legendary Quest for 500,000 Miles (And Beyond) for more on the 100,000 milestone.
[Source: Tyson Hugie – Drive to Five]