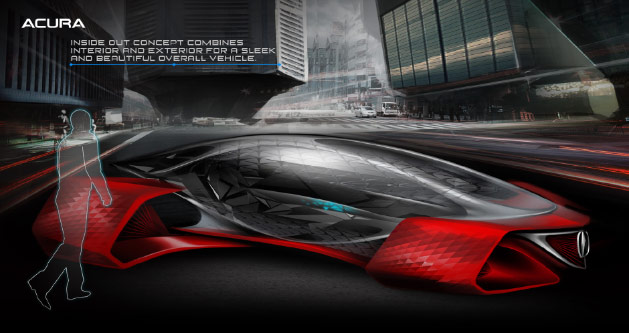 This year's LA Auto Show Design Challenge theme asks the question: "How Will Cars Interact with Us In 2029?" Honda USA's entry, the Acura Human/Machine Interface(HMI) Concept explores the possibilities of shape-shifting surfaces controlled by the passenger through mental and physical connections.
DESCRIPTION
2029: Technology and human beings have converged to allow a deeper level of interactivity between human and machine. Implants are common – they allow humans to connect with objects and modify them mentally and physically; they enable an enhanced experience when it comes to comfort and efficiency. This allows technology not only to cater to the needs of a passenger, but also to anticipate them. The future interior of the autonomous Acura car will be a sandbox for creativity and usability, giving our vehicles a greater role in passengers' everyday lives. Our concept is comprised of an exterior and interior shell, connected through a modular adjustable mesh that can flex and shape to custom-fit a passenger's needs. The interior is also constructed out of a fabric-like material that can be changed by simply pushing or pulling on surfaces that can accommodate one or two passengers. With the help of biometrics and after repeated use, the vehicle will learn the preferences of each user and anticipate their needs by changing its shape.
Visit laautoshow.com for more on the LA Auto Show Design Challenge.
[Source: Los Angeles Auto Show]