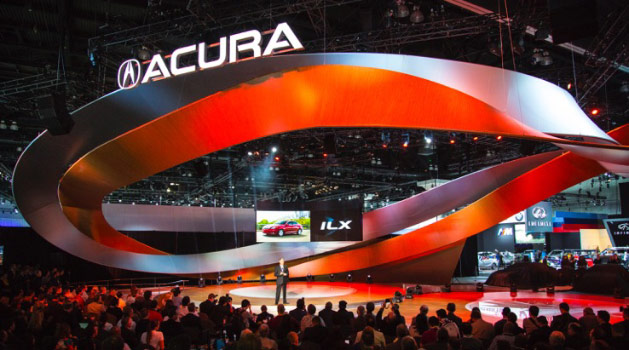 Official release from Acura Media Newsroom:
Nov 20, 2014
Mike Accavitti, Senior Vice President and General Manager, Acura Division
Good morning and thanks for joining us.
It's been an exciting show so far, and we're thrilled to be with you today to showcase a thoroughly redesigned, refreshed and reborn Acura ILX sports sedan.
Acura is on the move, step by step, we're executing on our vision for the Acura brand, adding more performance, more luxury prestige, and more dynamic proportion in design. And we're gaining energy and strength with every new model launch.
It started two years ago on the SUV side of the lineup with the second-generation RDX, which has run its race at a torrid pace, turning in 25 consecutive months of sales records. It was followed to market by an all-new, third-generation MDX, which is not only the sales leader in its segment, it's the best-selling 3-row luxury SUV of all time.
Through the first 10 months of this year, sales of the best 1-2 punch in the luxury SUV game are up 16 percent – even over a strong 2013.
And in the months ahead we'll be sharing our plans to further enhance this Acura SUV lineup for even greater competitiveness.
More recently, we've been focusing attention on the sedan side of the Acura lineup, with the launch of the all-new 2015 TLX. The TLX brings to bear an incredible array of cutting edge Acura performance technology, including two next-generation Acura precision handling technologies, two advanced new engines, and two all-new, transmissions, and that includes the world's first 8-speed dual clutch transmission with a torque converter, which has debuted to rave reviews.
TLX also heralds the introduction of our AcuraWatch Suite of advanced safety and driver-assistive systems. This is absolute state-of-the-art stuff, technology that is on the road to the automated vehicles of the future you've begun to see in test programs.
AcuraWatch includes the capability to sense pedestrians, and both front and rear collision mitigation, including what we call Road Departure Mitigation, which means it will intervene to help keep the driver on the road. These are capabilities that match or outperform systems in competitor vehicles that are two or three times the price.
With its tremendously refined and thrilling performance and all of this great technology, it's no great surprise that the TLX is experiencing record customer interest and growing sales momentum. During the past two months as we began to fill the product pipeline TLX has been our best-selling sedan and is outpacing a slew of other recently-redesigned luxury sedans, and it's just getting started.
TLX is a core volume model for the Acura brand. More than that, we're seeing TLX lend a hand to the rest of the Acura lineup in creating showroom traffic, in raising purchase consideration among luxury intenders, and in advancing new leading-edge performance technology. And it is the latter opportunity, leveraging the performance attributes of the TLX that brings us here today.
This morning we've got great news about the gateway to the Acura lineup, the ILX sports sedan.
ILX was always a great idea. It broke new ground as the first entry-luxury sedan in an emerging segment, ahead of Mercedes, BMW and Audi. This is a hotly competitive market and a critical front in the battle to attract new, young luxury customers.
And in the context of its role as the gateway to our brand, the ILX has been fulfilling its mission, attracting a higher percentage of under-35 customers than any other car in the segment.
But we see opportunity to grow our sales and share. We have been listening closely to the voice of the customer, who told us that they liked the package and styling, but want more power and more luxury features.
We listened and we're responding, with more features, more leading-edge technology, and a major injection of Acura DNA, which means a heightened level of performance to create the lightning quick gratification that appeals to younger buyers.
Redesigned, reengineered and reborn as an even stronger, more powerful, and more refined Acura sports sedan, Ladies and gentleman, the 2016 Acura ILX.
This is more than just the normal mid-cycle refresh. Top-to-bottom, from styling to interior refinement, luxury features to leading-edge safety technology, thrilling sports sedan performance to luxury sedan quietness, ILX is now a true gateway to what it means to be an Acura sports sedan.
Acura customers already give us high marks for ILX's sporty and elegant exterior design, but for 2016, we've upped the ante with a bolder, more distinctive front end, highlighted by Acura's signature Jewel Eye LED headlights, now standard across the lineup, a boast no competitor can make.
The styling changes carry around to the back, with a restyled rear bumper and new LED tail lights.
Inside this new ILX is a level of standard feature-content unmatched in the segment, including remote engine start and all kinds of new connectivity options, including an HDMI hookup. If you'll pardon the pun, this ILX is in tune with the needs of millennials.
Further, there are available Cross Traffic and Blind Spot Monitors. And for the first time, we're offering Acura customers an easy to use, smartphone-powered navigation option, in addition to available embedded navi.
This is content younger buyers moving into luxury are going to demand. We've got it now.
But honestly, the biggest changes to this ILX are the ones you can't see, and that we can't really show you today, and that's the driving experience. This new ILX responds to the will of the driver, like only an Acura can, with intuitive and intelligent performance.
It starts under the hood, where we're doing more than infuse ILX with the spirit of the TLX. We've given it some of the thrill, by equipping it with one of TLX's two new powertrains. Yes, the same dynamic 2.4-liter, 16-valve, direct-injected i-VTEC engine, AND, our incredible 8-speed DCT. Both have received incredibly positive feedback in the TLX.
Now, this new powerplant will up peak output in the ILX by 51 horsepower, with torque up by 40 pound-feet from the outgoing automatic model. That gives the ILX the best power to weight ratio of any front-wheel-drive vehicle in its class.
If you've driven the 2.4-liter TLX, you know the story, incredibly intuitive and lightning fast shifts, with rev-matching down shifts, via the most advanced, most responsive and most joy-inducing transmission technology in the class.
In ILX, it all comes to you with finger-tip control courtesy of its steering-wheel mounted paddle shifters. It's a hell of a powertrain, and a major game-changer for ILX performance.
And we've made many more performance and ride quality enhancements. It's more quiet. And the driver will experience a thoroughly retuned suspension in their first trip down the road.
In the area of safety, the ILX gets another valuable shot of Acura DNA, with the adoption of our AcuraWatch Suite of safety and driver-assistive technologies, available as an option on all ILX models. This includes what enthusiast experts tell us is the best Lane Keeping Assist system in the business, along with new Road Departure Mitigation and an enhanced Collision Mitigation Braking system with sensor fusion technology. That even sounds advanced.
There are also major enhancements to the body, designed to achieve a Top Safety Pick Plus rating from the IIHS.
No other vehicle in this class offers this level of technology for safer driving and collision avoidance.
Finally, we're bringing the 2016 ILX to market with a trim package reflective of the Acura brand direction. That means expanding customer choice with a Standard, a Premium, a new Tech Plus, and the top-of-the line ILX A-SPEC, which is the model you see here.
This A-SPEC model gets an 18-inch alloy wheel, side sill garnish, trunk spoiler, fog lights, red instrument lighting, aluminum pedals and more.
And this beautiful new Catalina Blue Pearl is available on all Premium and above models.
And if you noticed a race car in that video, I will remind you that ILX won its class at last year's 25 Hours of Thunderhill race.
And next month, an in-house team of our associates will campaign an ILX with the new body style chasing the overall win against some of the world's great sports cars.
You know, it's one thing to sell a luxury badge at a more affordable price point. It's another thing to deliver true luxury levels of performance, prestige and dynamic proportion.
This 2016 ILX is now a great idea fulfilled. A luxury vehicle for the next generation. That's why we're telling luxury buyers , Catch it if you can early next year at Acura dealers nationwide.
Thank you for joining us.
Now, come join me on stage and check it out!
[Source: Acura]