San Marino Red
I was a bit surprised when I picked up the red 2018 Acura TLX, every press car I've borrowed had always been black or white. The red paint job was a match for the A-Spec's athletic character though; its bold color worked well with the NSX-inspired front bumper, black 19″ wheels, and dark chrome accents. Besides, they say red cars have more fun, and that's really what the A-Spec variant is meant to be – the sportier, more exciting, TLX model.
The Mountains Are Calling – Jasper National Park
When in Alberta, there's only one area I wanted to shoot this SH-AWD equipped TLX – the Canadian Rockies. With only one week with the car, I headed west from the city of Edmonton to Jasper National Park. Just inside the park gates, the summer greens had already turned to yellows and browns along the Athabasca river, but the scenery still brings many cars to stop here year-round.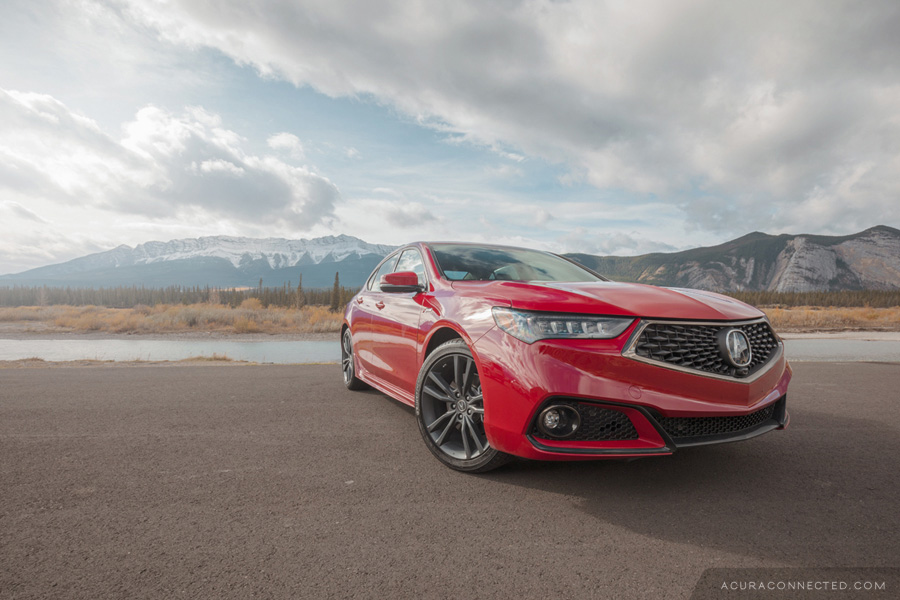 A-Spec Interior
Naturally, our TLX press car came loaded with every option available, plus all the extra A-Spec goodies. Red leather is one of two interior options for the A-Spec, but ours had the alternative, black leather and Alcantara. The combination mixed nicely with aluminum-look trim to present an upscale, high-tech, sporty feel.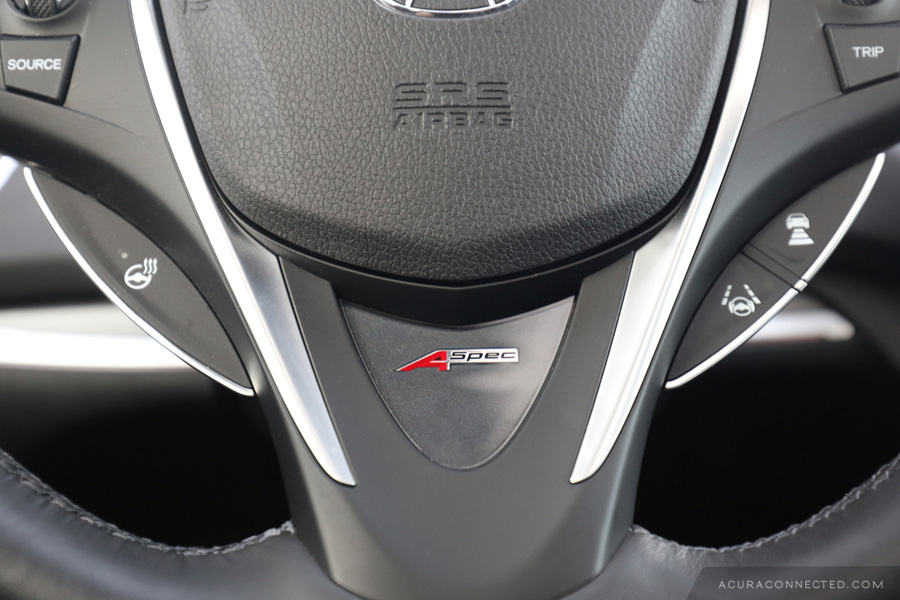 Athabasca Glacier via Icefields Parkway
From the town of Jasper we headed south, down the beautiful Icefields Parkway. This drive is absolutely gorgeous with clear skies, but on that cloudy day we were just happy to avoid the threatening rain clouds that could spoil our sparkling exterior. We settled on a spot with the Athabasca Glacier in the background, and as it turned out, mother nature broke up some clouds and graced us with a little light. It was here I captured my favourite shot of the trip.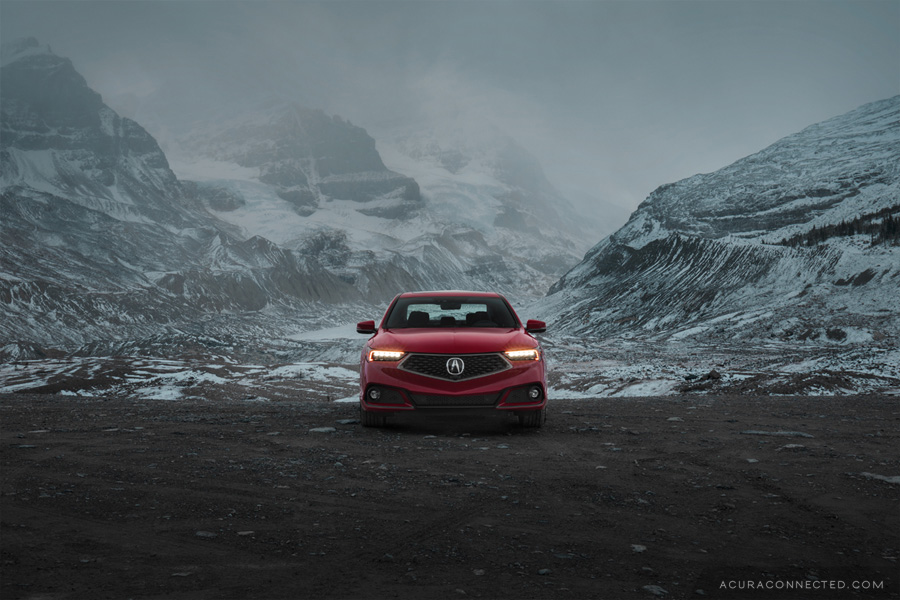 Maligne Lake/Medicine Lake
Jasper National Park boasts many picturesque lakes, one being the tourist-favourite Maligne Lake. After a few hours exploring Maligne Lake by boat and on foot, photo ops with the TLX just couldn't be found. On our way back to Jasper town we did we manage to catch a nice sunset at the smaller, less famous, Medicine Lake.
A-Spec at Night
When the sun goes down, the A-Spec's cabin glows with red ambient accent lighting. I had hoped for a clear night to capture the TLX with a star-filled sky, but the clouds didn't let up. Fun fact: at over 11,000 km2, Jasper National Park is the second largest dark sky preserve in the world.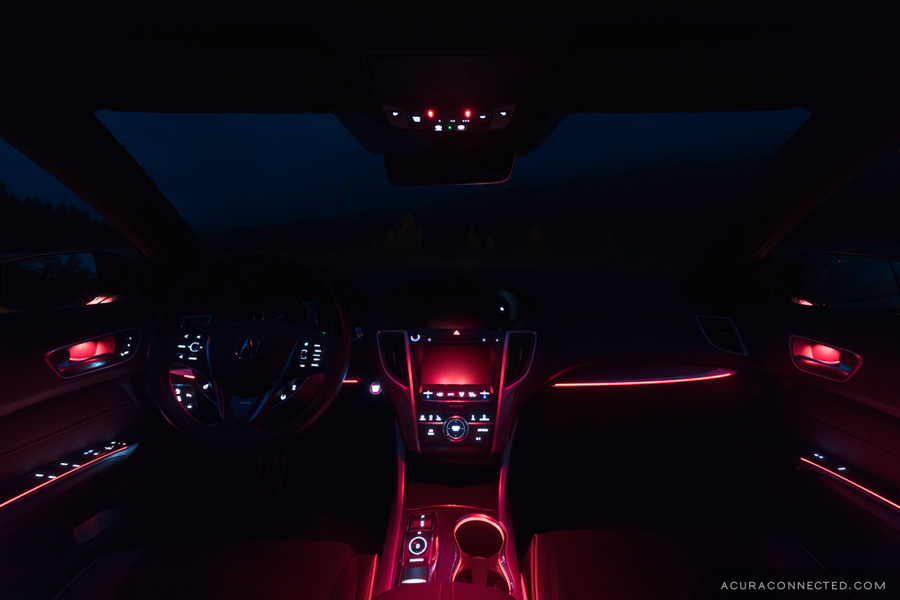 Chasing Light
When the mother nature doesn't cooperate, you make best with what you have. The remainder of my days with the TLX were cloudy and overcast, but in and around the scenic town of Jasper there are still plenty of fun drives and interesting areas to explore. The curvy uphill climb to Marmot Basin Ski Resort at 1,698 m (5,570 ft) is always a blast to drive, especially with SH-AWD. 12-minutes from Jasper town is the serene Pyramid Lake, which offers a variety of outdoor activities throughout the year like boating, hiking, star-gazing, and ice skating.
Coming full circle I stopped for one last shot along the Athabasca River. Even with low-lying clouds and icicles hanging from the TLX, it still made for a great photo.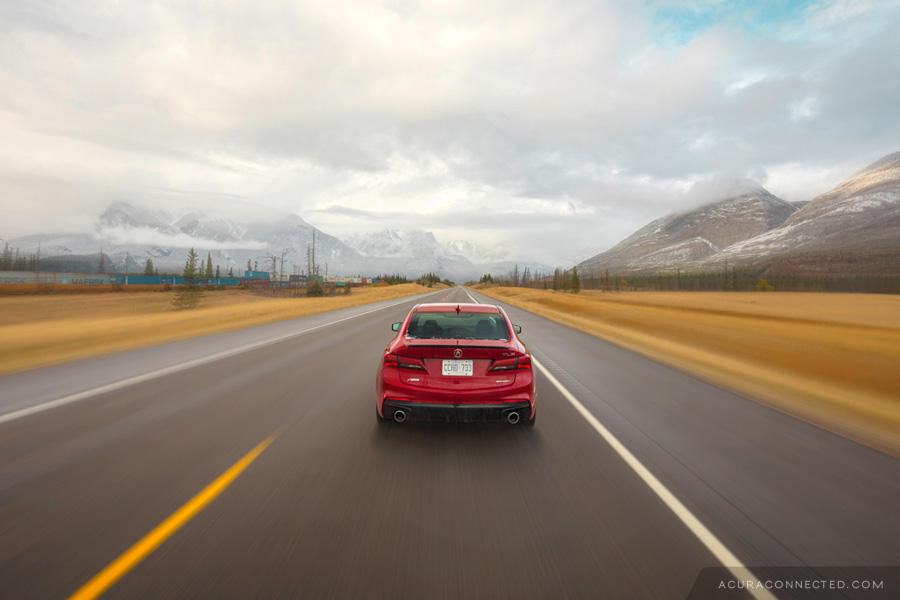 [Source: Chris Tobias/Acura Connected]