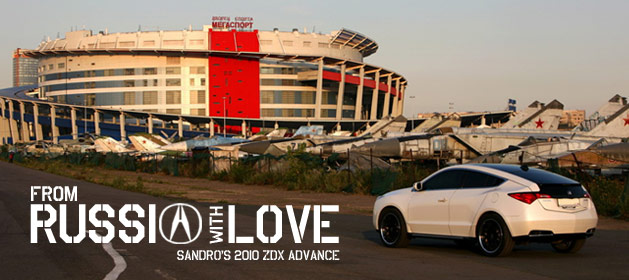 The Russian Federation – Area: 17,075,400 km2. Population: over 143 million. Acura Dealerships: 0.
As it currently stands, the closest Acura dealership from Russia would be in the People's Republic of China. The times are a-changin' though, as Acura announced earlier this year that they would soon be expanding operations into the United Arab Emirates, Saudi Arabia, the Ukraine, and Russia.
So until then, what would a Russian have to do to buy an Acura? Import it of course! And that's exactly what Sandro did after he fell in love with the Acura ZDX. It did require a small bit of effort, but last year Sandro's Aspen White Pearl 2010 Acura ZDX Advance arrived in Moscow all the way from the United States.
Sandro tells me Acuras are rare in Russia, but they do exist. The majority of the models being MDXs and RDXs. "The ZDX really gets alot of attention on the road since many people have never seen it before. Many even come and ask about it." says Sandro. Along with the ZDX's head-turning style, I'm sure Sandro will have no complaints with the SH-AWD system in place to get him through the long Russian winters.
He's also been busy with mods, the most noticeable additions are the 21″ custom made DPE SP-C16 wheels which compliment the ZDX's black panoramic glass roof nicely. Here's a full list from Sandro:
Wheels – 21″ DPE SP-C16 (forged) with Michelin latitude sport 295/35R21 • 4300k HID fog lights • 5000k V-Leds bulbs for DRL and turn signal/parking lights • Hella LEDayLine DRL strip • Rear LED orange turn signal bulbs • Window tint (about 85% sunblock) • Windows CE6 based additional aftermarket onboard computer connected to OEM display(with russian navigation software, flashplayer, USB modem and Internet) • Swap to Canadian odometer (in kms/liters/Celcius) • Front and Rear parking sensors • Blacked out rear reflectors
Without further ado, here are a few shots of Sandro's ZDX at a semi-abandoned Moscow airfield taken by photographer Maxim Vorobyev. I've always thought the sharp front end lines and grille of the newer Acuras resemble a jet. Anyone see the resemblance in the photos below?