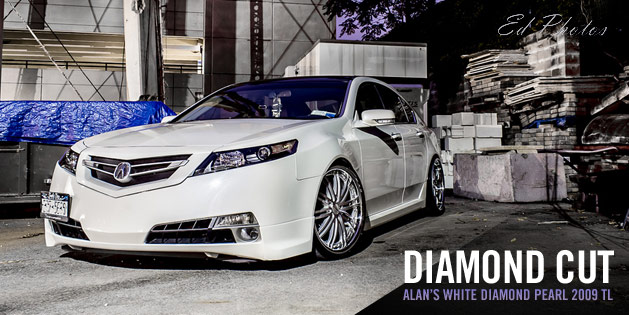 SHARP. That's how I would describe Alan's White Diamond Pearl 2009 TL in one word. White and silver colored cars do it best, they tend to bring out all the angles and lines on a vehicle, and the 4G TL has got plenty of them. The RonJon grille accentuates the sharpness of the front design, and in this case, is actually a nice compliment to the design of the Vossen VVS082 wheels. I also love some of the more subtle features on Alan's car, like the blacked out headlights and red tail lights which are a nice contrast on white.
Here's a full list of mods:
3,000K HID fogs • OEM spoilers • P2R Spacer/Gaskets • 20″ Vossen VVS082 • PowerSlot slotted F&R • ATLP resonated exhaust • Progress RSB • Blacked out headlights • Takeda SRI • FLP SS brake lines w/ Dot4 • Rv6 Hfpc • ISC N1 • RonJon grille
Thanks goes out to Alan and photographers Jliu Photography, Lowered Congress and Ed Photos for the absolutely gorgeous shots. You can follow Alan's(aka Eazy) progress thread on AcuraZine .