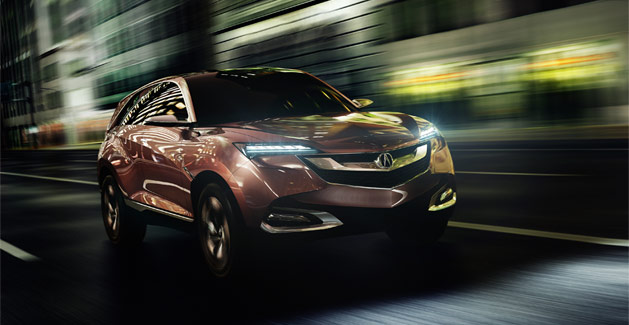 Acura Exhibits World Premiere of the "Acura Concept SUV-X" at Auto Shanghai 2013
SHANGHAI, China, April 20, 2013 – Acura today exhibited the world premiere of a design concept model, the Acura Concept SUV-X, at Auto Shanghai 2013 (the 15th Shanghai International Automobile Industry Exhibition, press day: April 20, public days: April 23 – 29).
Acura Concept SUV-X
The Acura Concept SUV-X is a global concept vehicle for a small SUV developing primarily for the Chinese market. This is the first time for Acura to introduce the world premiere of a concept model outside of North America. Emotional and sharp styling and driving performance, together with the environmental performance of a small vehicle and excellent utility of an SUV are all fused together at a high level in this vehicle. Acura is planning to begin local production and sales in China of a mass-production model based on this concept vehicle for its market in about next three years.
Introducing Acura RLX to go on sale in June 2013
Acura announced the Chinese version of the Acura RLX, a luxury flagship sedan which will go on sale in China in June 2013. Excellent maneuverability and comfort are pursued through the adoption of a number of advanced technologies including a newly-developed 3.5L direct-injection SOHC i-VTEC® V6 engine and Precision All-Wheel Steer™, the world's first technology that achieved both outstanding turning performance and vehicle stability.
At Auto Shanghai 2013, Acura also exhibits the NSX Concept, the next-generation super sports model which was exhibited at the 2013 North American International Auto Show in January.
Comment by Takanobu Ito, president & CEO of Honda Motor Co., Ltd.
"We are planning to produce the mass-production model of the Acura Concept SUV-X locally in China. With the hope that our Chinese customers will more closely feel the values offered from Acura, we will begin preparing for the start of the local production. In China, where dynamic growth continues, both Acura and Honda will keep up our efforts to enhance products and technologies that will offer new joys of mobility to our customers."
[Source: Honda Worldwide]