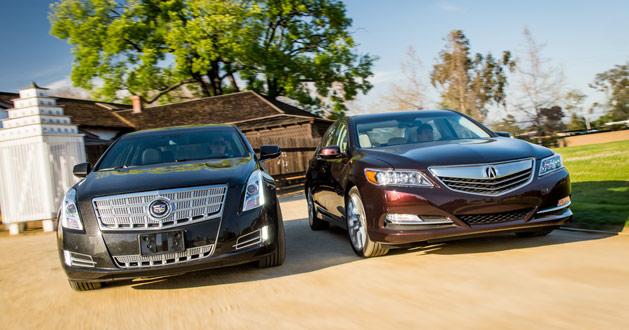 Similar yet very different, Motor Trend compares two "full-size" luxury sedans: the all-new 2014 Acura RLX and the 2013 Cadillac XTS4.
Specs-wise, the 2013 Cadillac XTS4 and the newly released 2014 Acura RLX almost are twins. Each sedan is powered by a midsize, 24-valve V-6 mated to a six-speed automatic. The Acura's wheelbase is a mere half-inch longer than the Caddy's, while exterior dimensions are within inches of each other. (The XTS is a bit longer and wider.) Comparably equipped, both cars wear stickers just above $60K. Yet in execution and character, the Cadillac and the Acura turn out to be surprisingly different machines, each offering a decidedly different take on what a sport-luxury four-door should be. So which one best delivers? Arthur St. Antoine, Motor Trend
Find out which vehicle comes out on top at Motor Trend – motortrend.com: 2014 Acura RLX vs. 2013 Cadillac XTS4.
[Source: Motor Trend]