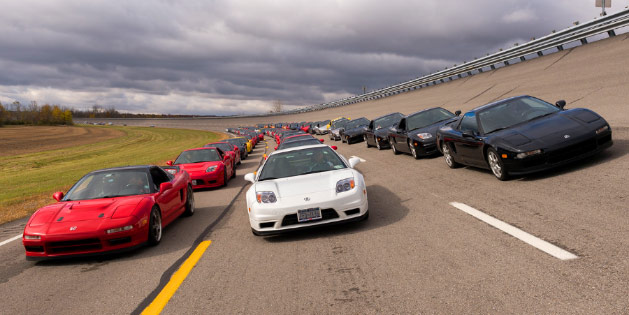 The fifth and final day of NSXPO 2014 brought the crew to the Honda R&D Ohio Center where some group shots took place in the parking lot. Inside they were treated with an up-close look at the blue NSX Prototype that debuted last year at the Honda Indy 200. Photos of the NSX Prototype were apparently prohibited, but photographer Tony DeJoie was allowed to take the one group shot seen above.
NSX owners then assembled on the banked oval of the Transportation Research Center track for an epic photo shoot. According to Tony there were a total of 71 NSXs on the track, minus one lonely NSX which stayed in the parking lot short on gas.
Credit to Tony DeJoie for sharing these photos from the event. If you're looking to view high quality versions of these photos, visit Tony's full gallery on SmugMug.
[Source: Tony DeJoie]