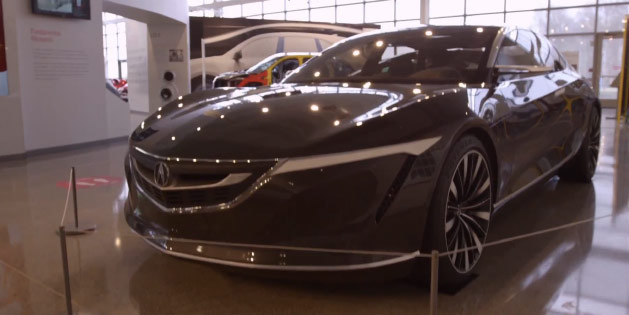 The Honda Heritage Center in Marysville Ohio opened its doors this month, and inside there's a mystery Acura Concept on display. With the museum opening to the public in January, so far there isn't much information about the vehicle, but it's clearly visible in the video footage provided by Honda.
As some have pointed out on the forums, this 4-door concept shares a similar front end design with the Avengers NSX Roadster, especially the headlights. The grille however looks more recent, closer to the new 2016 Acura ILX. Its sloping roofline and hidden door handles remind me a bit of the ZDX.
Is the concept a design study from the past, or hint at a future model? We'll keep you posted.
[Source: Honda, Temple of VTEC]