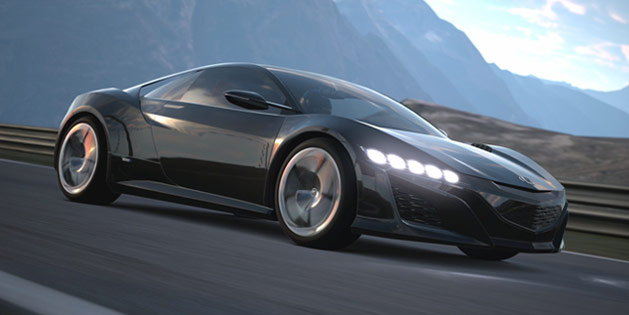 Official release from acuranews.com:
Acura NSX Supercar Concept to Debut in Virtual World Of Gran Turismo®6 Game
Best selling PlayStation® driving simulator to feature virtual Acura NSX Concept
12/06/2013 – TORRANCE, Calif.
The highly anticipated Acura NSX, in concept form, will fire up its twin-turbocharged engine and innovative new three-motor, torque vectoring Sport Hybrid powertrain in Gran Turismo®6 (GT6), which releases worldwide today. The 'real driving simulator' available exclusively for the PlayStation®3 system gives sports car enthusiasts their first opportunity to get behind the wheel of the next generation Acura NSX Concept.
"Whether in the virtual world of Gran Turismo today, or on real-world roads and racing circuits less than two years from now, the Acura NSX will be an incredibly innovative and thrilling ride that delivers something entirely new to the world of super sports cars," said Mike Accavitti, senior vice president of Auto Operations at American Honda Motor, Co., Inc. "The wait is over for NSX fans eager to get behind the wheel of the next Acura supercar, and they can rest assured the actual production car will be even more amazing than the in-game concept version."
Targeting next-generation supercar dynamic capabilities with advanced environmental performance, the Acura NSX will be powered by a mid-mounted, direct-injected and twin-turbocharged V-6 engine mated to Acura's Sport Hybrid SH-AWD® (Super Handling All-Wheel Drive) system.
Click here to continue reading
Filed under: Acura News, Acura Official Releases, NSX
Tags: 2015 Acura NSX
No Comments