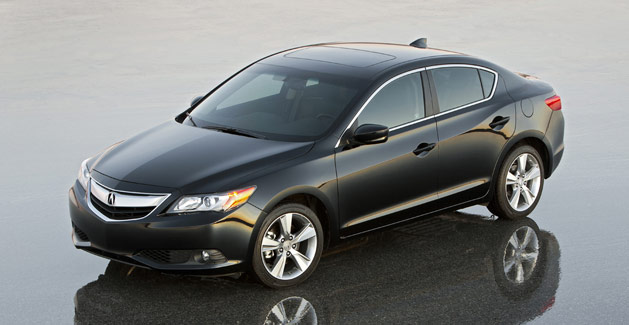 Sporty styling, new technology and efficient powertrains are highlights
02/08/2012 – CHICAGO
Following up on its blockbuster appearance at this year's Detroit auto show, Acura today unveiled production versions of two new vehicles at the Chicago Auto Show. A completely redesigned 2013 Acura RDX crossover sport utility vehicle and the all-new 2013 Acura ILX luxury compact sedan were shown. Both new Acura models are scheduled for launch in the Spring.
"We are excited to be launching these two new luxury models as the gateway of Acura's revitalized product lineup," said Jeff Conrad, vice president and general manager of Acura. "As we embark on our second 25 years as a premium luxury-performance automobile brand, we are excited about the role these two vehicles will play in welcoming a new generation of luxury car buyers to the Acura brand."
2013 Acura ILX
The 2013 Acura ILX compact sedan is an all-new model that is positioned as the gateway into the Acura brand. The primary target customers for the new ILX are Generation Y— successful 20 and 30-somethings moving into the luxury car ranks but looking for high-value propositions in their purchases.
"First-time luxury buyers tend to place a high value on exterior styling, affordability and environmental issues, and that's what we have created with the new Acura ILX," said Jon Ikeda, head of the Acura Design Studio. "The strategy behind this new model is to position ILX as the first opportunity for many young buyers to enter the luxury market."
Sleek and sporty, the ILX combines luxury, performance and efficiency. While maintaining a strong emphasis on stylish and aerodynamically efficient exterior design, the ILX features a large and airy greenhouse that provides excellent outward visibility. As a five-passenger luxury sedan, the ILX combines compact proportions with a spacious passenger interior and ample cargo space— perfect attributes for young professionals on the go.
Click here to see the full press release
1 Comment
Filed under: Acura Galleries, Acura News, Acura Official Releases, ILX, RDX
Tags: 2013 Acura ILX, 2013 Acura RDX, Chicago Auto Show