Day 01: Marmot Basin
Trip Odometer Total: 398 kms(247.3 miles)
We picked up our 2012 Acura ZDX loaner at West Side Acura this morning, and with a press of the push-button ignition we headed out to begin our journey.We received a freshly detailed Crystal Black Pearl ZDX with black leather interior and the Technology Package, wrapped in a set of Micheline Latitude Alpin tires for extra snow grip. Coupled with Acura's exclusive torque vectoring SH-AWD which comes standard on all ZDXs, we couldn't really ask for anything more in our winter driving machine.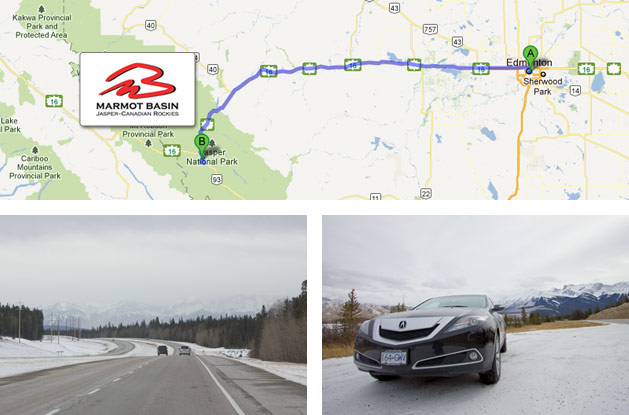 Our first destination was Marmot Basin in Jasper National Park, the closest major ski resort to Edmonton with a drive time of approximately 3.5 hours. Heading west on highway 16, driving conditions were optimal with overcast skies and dry roads. Marmot Basin has always been like a home base for me, and the 360km trek towards the Rockies was a familiar one. We stopped just inside Jasper National Park for some quick shots of the ZDX.
It was our first time inside the cabin of the ZDX, and to say we were impressed would be an understatement. The cockpit was a fusion of real leather and nicely textured plastic features. The premium leather seats with 8-way power adjustments were soft and accommodating, combined with the power adjustable steering column, finding the ideal comfort zone for my 6'1″ frame was easy. Loaded with extra features the dash and center console is laid out intuitively, Kevin and I had it all mostly figured out in about hour. Our 3 favorite features so far: USB iPod integration, trilingual voice recognition and the 10-speaker ELS surround sound audio system.
The mountain climb up to Marmot Basin was steep and slushy, but hardly a work out for the SH-AWD system. Arriving late for an afternoon of riding, we managed to get in some good runs in a short 2 hours. Marmot Basin received 10 cms of snow in the past 7 days with 1 cm overnight, which gave us a nice soft top layer of snow to carve through. With 2 new lifts for the 2011/2012 season, navigating the mountain's 86 runs and 6.8 km² of of skiable terrain has never been faster or easier.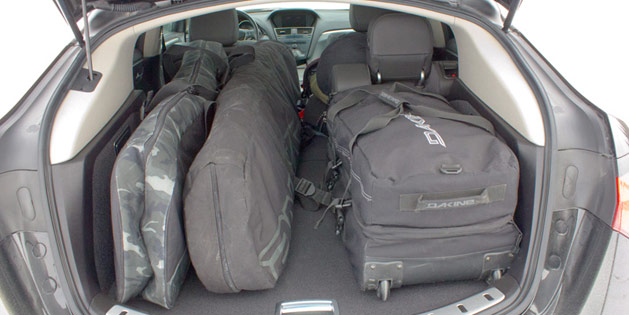 After just barely catching the last chair up, we rode straight out to parking lot number 4 and right to the ZDX. Packing up our gear, the ZDX's 60/40 folding rear seatbacks provided plenty space and quick access for our 2 snowboards and luggage. We snapped a couple more photos then headed out for a night in the town of Jasper. Next stop, Lake Louise.
For more on Marmot Basin and Jasper, visit SnowSeekers.ca.
• The Rocky Mountain Road Tour: Introduction
• Day 01: Marmot Basin
• Day 02/03: Lake Louise
• Day 04: Revelstoke
• Day 05/06: Whitewater
• Day 07: Red Mountain
• Day 08/09/10: Whistler Blackcomb
• The Rocky Mountain Road Tour: ZDX Wrap-Up