Day 08: Vancouver, BC
Trip Odometer Total: 1,767 kms(1,098 miles)
616 km is what separated us from Vancouver, without any doubt it was the longest leg of our trip. We had left early in the morning, hoping to avoid another night of treacherous mountain driving. The first half was an absolute pleasure, with warm weather and sunny skies we made our way through dry mountain passes and beautiful valleys. The Westward path on Crowsnest Highway brought us right along the US/Canada border at multiple points, and we had some fun trying to figure out which pieces of land where physically on the American side.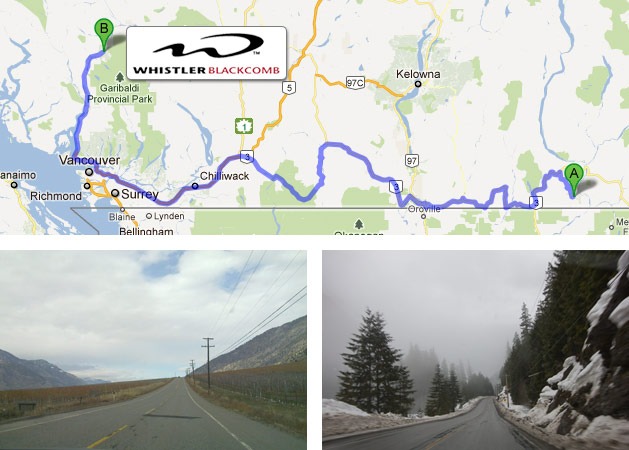 Through the long drive there was definitely no shortage of audio entertainment. While we had the selection of XM radio available, I also had my iPhone connected via USB and at the same time Kevin had his smartphone synced via Bluetooth. The ELS surround sound audio system has been a great companion, blasting crisp quality sound through the ZDX's 10-speakers. I've enjoyed the nice arm massage the door speaker gives me when there's deep base, all without any rattle or distortion. In contrast, the ZDX is equipped with Active Noise Cancellation and fabric insulation, so whether we're reminiscing about our day on the hill or arguing about which route to take, the cabin has been exceptionally quiet when needed.
It seemed the closer we got to Vancouver, the harder the rain began to hit us. As the sun slowly sank behind the clouds and fog, our ZDX rallied through the last stretch of steep, curvy, and wet mountainous roads without a hitch. We eventually linked back to the Trans-Canada Highway for some smooth cruising to the big city. I'm not sure what's more stressing, mountain driving through a snow storm or navigating the busy streets of Vancouver on a dark rainy night.
Day 09: Blackcomb Mountain
Trip Odometer Total: 1,897 kms(1,179 miles)
It's been a long 8 days, but the home stretch to our final destination Whistler was only 125 km away. I haven't been up Highway 99 since it had completed its upgrades for the 2010 Winter Olympics, so it was nice to breeze through without stopping for any construction. Highway 99 is also known as the Sea to Sky highway, with the coast on one side and mountains on the other, it's setup for some spectacular views. The scenic drive is highly recommended if you're ever in the Vancouver area.
We arrived for an early check-in at the luxurious Fairmont Chateau Whistler Resort Hotel which is situated at the base of Blackcomb Mountain. It has all the services and amenities you would expect from a Fairmont hotel, but it's also tailored specifically for the skiing and snowboarding experience. With true ski-in/ski-out convenience, it's just a few steps away from the Blackcomb Daylodge and the Wizard Express Lift. There's also the rental shop and handy ski valet service attached to the hotel, so you can drop off your gear after your last run and pick it up the next morning.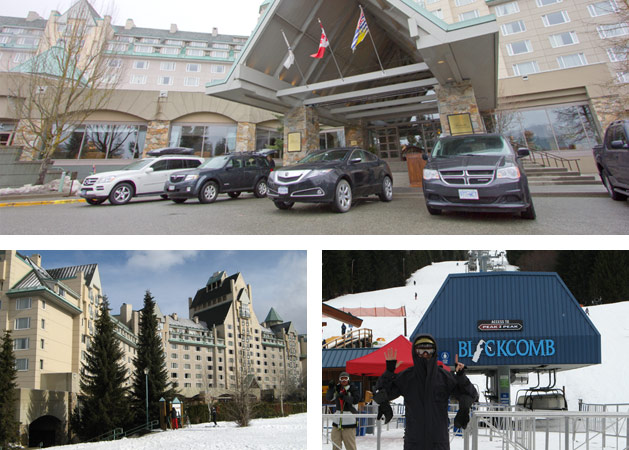 Surprisingly there was no line at the Blackcomb base, so we quickly headed up the lifts and into the clouds. It was foggy and slushy at the lower mountain, but once you head up above the clouds on Solar Coaster you're looking at blue skies and drier snow. 16 cm of the white stuff fell overnight, so higher up even further on the 7th Heaven we found ourselves cutting through some nice fluffy pow. With a ton of terrain still left to cover, we rode the day out until the lifts closed, then headed back to our room at the Fairmont to get ready for a night out in Whistler village.
Day 10: Whistler Mountain 
Exhausted and sore from nine days of driving and snowboarding, we've survived to make it to day ten. And on our last day of riding, we received a little gift from our old friend Mother Nature: 25 cm of fresh snow overnight. It was a welcomed gift considering what she made us battle through to get here.
Today we planned to hit up Whistler Mountain, so we made our way atop Blackcomb to the Peak 2 Peak loading station. Opened in 2008, the Peak 2 Peak gondola stretches across 4.4 km to connect the two massive side-by-side mountains together. It would be my first time on this record breaking gondola, so we decided to wait a few minutes for one of two special cabins that offer an extra perspective – a glass floor that lets you see 436 metres down to the ground below.
With Whistler Blackcomb's 39 lifts and over 200 trails, there's just too much terrain for us to completely explore in in such a short time. The snow continued to fall throughout the afternoon, but after 7 sessions of intense riding in the past 10 days, our legs just couldn't keep up. From the village base we returned to Blackcomb Mountain where we rode to the top of Glacier Express for our last run of the trip. I took my time getting down, prolonging the final descent and making sure I enjoyed every last cut and turn through the snow.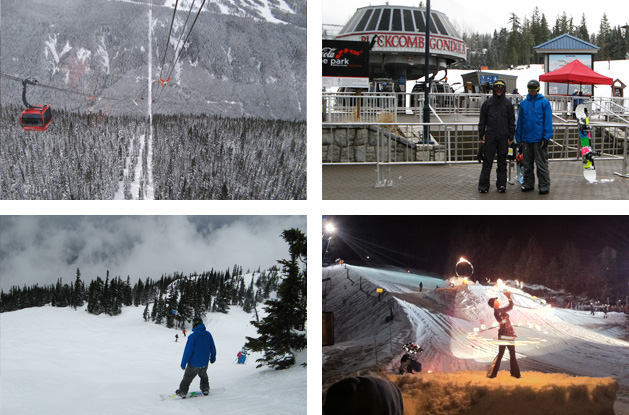 Wanting to end our Rocky Mountain Road Tour with a bang, we attended the free Fire & Ice Show in Whistler village later that evening. Surrounded by hundreds of snow seekers just like us who have made their journey to Whistler, we cheered on a group of talented skiers and riders as they put on a dazzling display of extreme skill and massive air. Combined with fire spinners, pyrotehnics and fireworks, it was a fitting finale to our epic adventure.  
For more on Whistler Blackcomb, visit SnowSeekers.ca
• The Rocky Mountain Road Tour: Introduction
• Day 01: Marmot Basin
• Day 02/03: Lake Louise
• Day 04: Revelstoke
• Day 05/06: Whitewater
• Day 07: Red Mountain
• Day 08/09/10: Whistler Blackcomb
• The Rocky Mountain Road Tour: ZDX Wrap-Up