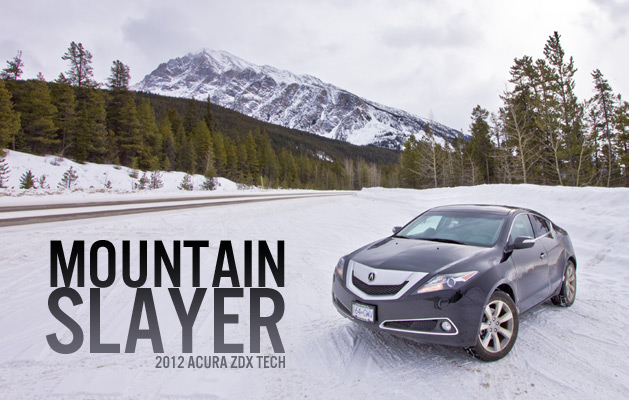 All good things must come to an end, and after 10 days and nearly 2000 kilometers travelled, our epic road tour through the Rockies came to a conclusion. I was happy to be heading home, but reluctant to hand over the ZDX back to Acura.
Performing like a sports sedan but with the toughness and utility of a crossover, it was as I expected, the perfect winter driving machine for our trip. Powering up steep climbs and navigating down curvy descents, through ice, snow, slush and rain, the ZDX was flawless. No vehicle is bulletproof in extreme road conditions, but extra measures like winter tires, adequate ground clearance and Super Handling-All Wheel Drive can be a defining advantage when you need to get out of a "snowy" situation. Still begging to be tested, the ZDX was by far the most capable vehicle I have ever taken on a road trip.

With one of the most luxurious and technology-packed interiors Acura has to offer, the ZDX's spacious cabin was an absolute pleasure to ride in even after many hours on the road. The leather dash and surrounding leather trim mixed with the ambient light from the dual moon roofs to create a natural, comforting environment ideal for our long drives in the mountains. There was more than enough space for our two snowboards and luggage with the rear seats folded down, and the power tailgate was a nice touch for quick and easy loading. As an Acura, the ZDX is equipped with a ton of convenient features, all very intuitive and useful for making the trip that much more enjoyable.

I couldn't keep count of all the heads that turned as they walked by the ZDX, most likely gripped by its unique and dramatic styling. One of its most noticeable characteristics, the long sloping roof line, is what really distinguishes it from the usual crossover varieties. From the front windshield, the industry-leading panoramic glass roof slowly curves over the top and towards the rear apex at the slightest angle, creating a distinctive silhouette that is elegant, but also aerodynamic and sporty. I love the sharp edge that arches over the rear wheels and along the side of the vehicle, it adds an aggressive flair to the ZDX's bold, muscular figure. More to its "coupe-like" appearance are hidden rear door handles which at some angles, can make the ZDX seem as if it only has two doors. In a parking lot full of your typical ski resort vehicles, it was nice to have one that was different and so easy pick out.

So is it a utility sedan? A super coupe? A performance crossover? I guess you could say it is all of the above. I still couldn't accurately describe the ZDX in just a few words, but in this case, it's definitely not a bad thing. I think the unique combination of qualities bring a mysterious allure to the ZDX, and that's something you won't easily find in the selection of today's vehicles. When I look back at this trip, it won't be hard to remember the ZDX and how it carried us through the Rockies with such style, comfort, and confidence.
The Rocky Mountain Road Tour 2012:
• The Rocky Mountain Road Tour: Introduction
• Day 01: Marmot Basin
• Day 02/03: Lake Louise
• Day 04: Revelstoke
• Day 05/06: Whitewater
• Day 07: Red Mountain
• Day 08/09/10: Whistler Blackcomb
• The Rocky Mountain Road Tour: ZDX Wrap-Up