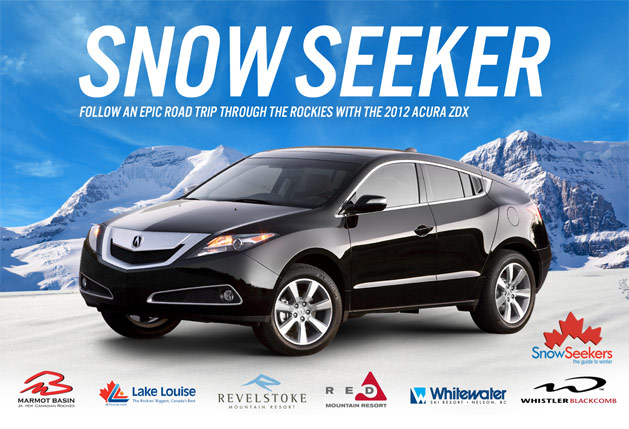 This isn't your average road trip. For me, a snowboarder for nearly 10 years, it's something I've always dreamed of doing. A 10-day tour of the Canadian Rockies, destination: epic powder. An adventure that will take us from Alberta's capital city Edmonton, down through the continental divide and into interior British Columbia where we'll make our way to our final ski destination, Whistler. Along the way we'll get a chance to experience some of the best ski resorts Western Canada has to offer: Marmot Basin, Lake Louise, Revelstoke, Whitewater, Red Mountain and Whistler Blackcomb.
Every road trip requires a vehicle, and when we're in the midst of winter with roughly 2000 kms of potentially hazardous road to travel, the vehicle of choice will have to meet certain criteria. Reliability and all-wheel drive are absolute necessities. Some extra ground clearance and cargo space would definitely be helpful. And finally a comfortable cabin for those long grueling hours on the road.
Enter the 2012 ZDX, a unique crossover with luxury, utility, performance and Acura's reputation for reliability. With its powerful 300-hp V-6 engine, Super Handling All-Wheel Drive and a never-ending list of features, the ZDX is the perfect candidate for our Rocky Mountain Road Tour. Follow our review as we take the ZDX for the next 10-days through scenic drives as well as harsh winter conditions on our quest for fresh snow and glorious riding.
• The Rocky Mountain Road Tour: Introduction
• Day 01: Marmot Basin
• Day 02/03: Lake Louise
• Day 04: Revelstoke
• Day 05/06: Whitewater
• Day 07: Red Mountain
• Day 08/09/10: Whistler Blackcomb
• The Rocky Mountain Road Tour: ZDX Wrap-Up
For more coverage on North America's Northwest winter destinations, head over to SnowSeekers.ca.