Day 05: Nelson, BC
My muscles were extra sore this morning, likely from all that heavy snow I had to dig myself out of in Revelstoke yesterday. At least the rain had tapered off and we had some blue sky for the first time during our trip. Today the destination was the city of Nelson, a new experience for both Kevin and myself. We would be making full use of the Acura's navigation system for this stage, so with a few easy turns of the centre console dial we had our route entered and calculated.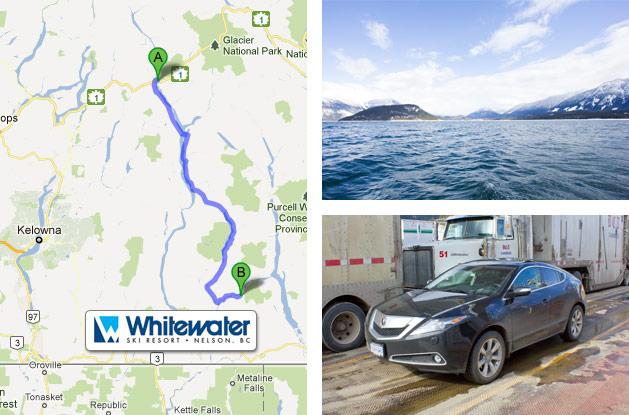 We headed South on Highway 23 until we reached Galena Bay, a ferry terminal for crossing Upper Arrow Lake. The ferry ride across wasn't very long, but it gave us a moment to take in the gorgeous view surrounding the lake and inhale some of the fresh mountain air. It would of been a great opportunity for some awesome photos, but the two semi trucks parked beside the ZDX had left me with limited angles to play with.
We continued South without a single rain drop or snowflake hitting the windshield, a nice change compared to our last two stages of the trip. With dry conditions, nice winding roads and more beautiful scenery, I finally had the opportunity to really "connect" with the vehicle. The ZDX's smooth 6-speed automatic transmission shifts crisply, and under normal acceleration you can barely feel the gear changes. Cruising at 100 km/h the engine purrs comfortably at around 1500 rpms with plenty of punch left if needed. Being in the Rockies, we've climbed some incredibly steep hills so far, and the 300 hp engine has always been able to conquer them with little effort.
The suspension has done well to keep the ride accommodating and comfortable, even over hard packed snow, grooves of ice and pot holes. Soft enough to negate small impacts, but stiff enough to hold a steady line through the mountain curves. US models will have the option of Acura's Integrated Dynamics System for a stiffer suspension and performance handling. A nice feature if you're looking for both comfort and sportiness.
Acura's navigation system had successfully led us to Nelson, and we managed our best fuel economy rating so far: 9.2 litres/100 km or 25.6 MPG. We stayed at the famous Hume Hotel, known for its dining and nightlife as well as historic presence in Nelson. The staff was friendly and dinner was fantastic, but their trendy night club the Spiritbar was closed that night. Probably for the best since we wanted to get in an early day at Whitewater.
Day 06: Whitewater Ski Resort
Trip Odometer Total: 1,142 kms(710 miles)
There was no new snow overnight in Whitewater, but with 11 cm in 48 hours and bluebird skies there was no complaining. We started off the morning with a few warmup runs on the Silver King chair, a great face for beginners with a variety of green and blue runs. Up next was the Summit chair which offers the option to ride the "Summit Side" face, or head down the backside to the new Glory Ridge chair. We did a few laps on the Summit Side, dipping into the trees for some fresh snow and then some hard carving on the steep cruiser runs.

Installed just recently in the 2010-2011 ski season, the new Glory Ridge Chair opens up a huge amount of accessible terrain for Whitewater. It was unfortunately closed for most of the day, but we were still able to ride out the backside thanks to the shuttle bus  which cycled every 15 mins. One thing I noticed was an unusual amount of natural hits all over the mountain, which in my case, is a good thing. We found a ton of them on the backside, and with some unique terrain it made the new "Glory Ridge Side" my favourite of the three. For more on Whitewater Ski Resort, visit SnowSeekers.ca
The ZDX wasn't the only Acura having fun in the Rockies this week. I found 2 fourth generation SH-AWD TLs in the Whitewater parking lot today, one from Alberta and the other coming all the way from Quebec. SH-AWD: don't leave home without it.
• The Rocky Mountain Road Tour: Introduction
• Day 01: Marmot Basin
• Day 02/03: Lake Louise
• Day 04: Revelstoke
• Day 05/06: Whitewater
• Day 07: Red Mountain
• Day 08/09/10: Whistler Blackcomb
• The Rocky Mountain Road Tour: ZDX Wrap-Up