Day 02: Ice Fields Parkway
Trip Odometer Total: 633 kms(294 miles)
In the summer months, the stretch of road from Jasper to Lake Louise is one of the most scenic routes you can travel if you're looking to experience the Canadian Rockies. Highway 93 also known as Icefields Parkway, parallels the Alberta/BC border for 230 km and is a popular tourist attraction. During the winter it's quite the opposite, extreme weather is common and traffic is minimal.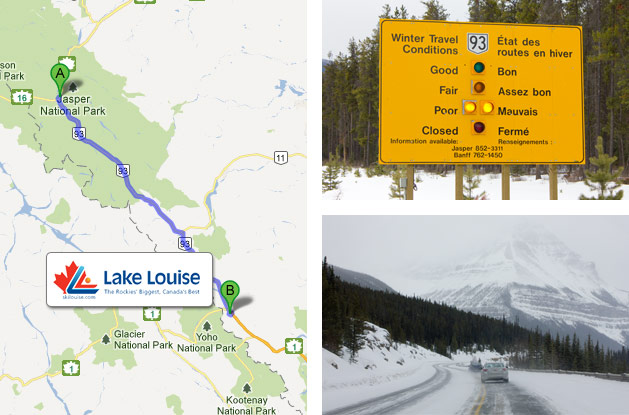 Just before we reached the Highway 93 gates, we were greeted with a road sign that read "Poor" winter travel conditions, we took heed and marched on cautiously. The roads were fair for the first 100 kms, the two lanes bordered by snow on each side. As we progressed south, the conditions became more erratic with increasing flurries and gusts of wind. Here is where our ZDX got its first true battle with winter. Near the half way point we reached the Columbia Ice Fields where I had initially planned to make a stop for some photos. Stopping however was not an option this time. The openness of the area created intense crosswinds that pounded us from the side, blowing in a complete whiteout of snow. We felt the vehicle sway a bit, but for once I think the heavier frame of the ZDX was a real benefit.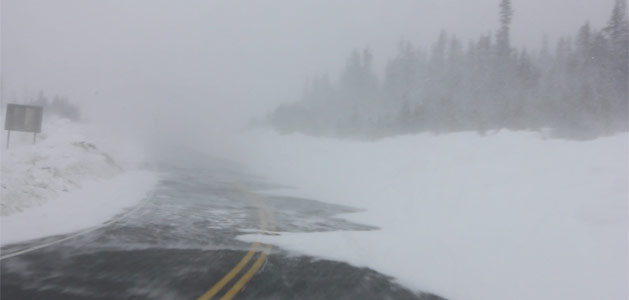 The strong winds had pushed snow banks stretching across the road, I did my best to slowly swerve around the bigger ones, but at times there was no choice but to plow right over. This is where the ZDX's SH-AWD, and 200 mm(7.9 in) of ground clearance was a huge asset. The ZDX performed confidently and manoeuvred as it would on dry pavement. I had solid control throughout, not once did I ever lose traction or feel any slip.
After our 3.5 hour drive we finally reached the village of Lake Louise in Banff National Park. We checked into our rooms at the Lake Louise Inn, a popular hotel resort with a ton of amenities, on-site restaurants and its own outdoor ice skating rink. The best part: it's the closest hotel to Lake Louise Mountain, skiing and snowboarding is just a few minutes away.
Day 03: Lake Louise Mountain Resort 
We awoke to a layer of snow on the ZDX, usually a good sign when you're hoping for good mountain conditions. After checking the snow report we confirmed our suspicions, 26 cm overnight meant a powder day at Lake Louise. We hooked up with our guide, Lake Louise veteran Mike Moynihan who brought us up a half hour before the public for some fresh tracks. I soon found out that Mike was a huge fan of the original NSX and we chatted about some of the features of the new concept.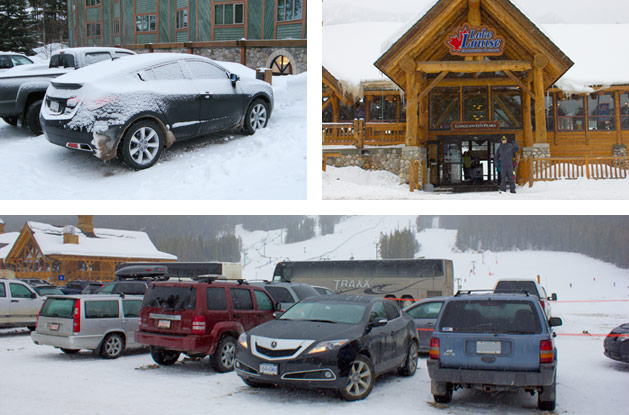 With 139 runs and 4200 skiable acres, there was more than enough fresh snow for everyone on a day like today. Mike took us down some of his favorite trails, most were untracked with creamy powder to our knees. We ripped our way through until about 2 pm when our legs burned fire. Who said riding pow was easy? We finished off our final run with a lap through Lake Louise's massive terrain park. With a ton of features and multiple lines, there's something for skiers and riders of all levels.
Visit snowseekers.ca for more on Lake Louise.
As we returned to the vehicle we noticed a man circling the ZDX, slowly analyzing its every edge and angle. He mentioned that he has never seen one before. I gave him the quick rundown on the ZDX and some of its key features as he seemed legitimately interested with his questions about model years and the type of engine. "It looks sporty, I love the huge wheels" he said.
We packed up our gear and got ready for the 231 km drive to Revelstoke.
• The Rocky Mountain Road Tour: Introduction
• Day 01: Marmot Basin
• Day 02/03: Lake Louise
• Day 04: Revelstoke
• Day 05/06: Whitewater
• Day 07: Red Mountain
• Day 08/09/10: Whistler Blackcomb
• The Rocky Mountain Road Tour: ZDX Wrap-Up